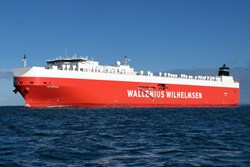 (PRWEB UK) 15 August 2013
Wallenius Wilhelmsen Logistics (WWL), a global leader in RoRo shipping and factory-to-dealer logistics, has expanded its ocean transportation service from Veracruz, Mexico. Starting in September 2013, WWL will offer two to three sailings per month from Veracruz to service the U.S. East Coast and connect with routes across WWL's global network.
Service calls include the ports of Veracruz, Galveston, Brunswick, Charleston and Baltimore; then proceed to Europe calling Antwerp, Bremerhaven and Southampton. The service also offers the capability to connect to routes across WWL's network around the world.
"WWL is excited to support manufacturer needs for ocean transportation from Mexico to the U.S. East Coast and beyond," says Rich Heintzelman, EVP and Head of Commercial for Wallenius Wilhelmsen Logistics Americas. "As we see a shift toward greater domestic manufacturing in Mexico, it will become increasingly important to strengthen export-bound ocean services from Mexico around the globe."
The first vessel to launch the service will be the Freedom in September 2013.
MORE ABOUT WALLENIUS WILHELMSEN LOGISTICS
Wallenius Wilhelmsen Logistics (http://www.2wglobal.com) delivers innovative and sustainable global shipping and logistics solutions for manufacturers of cars, trucks, heavy equipment and specialized cargo. WWL has approximately 5,700 employees worldwide and deploys around 60 modern vessels. The company has a strong environmental focus and is an industry leader in developing innovative solutions to reduce its operational impacts on the environment.
The company also specializes in handling complex project cargoes such as rail cars, power generators, mining equipment and yachts. WWL's sophisticated supply chain management services ensure an efficient integration of ocean transportation, inland distribution, terminal handling and a large comprehensive range of specialized technical services.
# # #