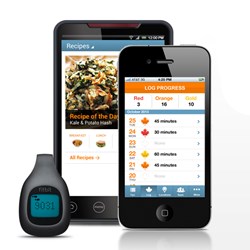 (PRWEB) August 17, 2013
Just days before a new NFL season starts in Denver on September 5, Health Enhancement Systems will kick off another fall full of fun, fitness, and health improvement. Available September 1 from the Michigan-based company will be an updated, enhanced version of Walktober with mobile compatibility and optional Fitbit® integration, among other additions.
"Our design and development teams have been hard at work in the off-season," notes Dean Witherspoon, the company's founder and President. "Participants will be particularly pleased with the clean, user-friendly interface. Plus, the mobile app and Fitbit integration will make the logging process practically effortless."
Other changes to the employee wellness program include increased social features and a new virtual trail. Participants will be able to post inspiring stories and share healthy recipes. On a virtual journey, they'll start in New England and travel west, stopping along the way at America's most beautiful attractions such as New York's Central Park, the Berkshires Region of Massachusetts, and Mt. McKinley, Alaska — North America's highest peak. Vivid descriptions and spectacular fall images make participants feel they're right there.
Walktober participants will enjoy the advantage of tracking progress with a Fitbit portable device to record steps, distance walked, calories burned, and other metrics. Participant data from Fitbit automatically transfers to their Walktober profile, for a seamless logging process.
"Syncing our program with Fitbit is a nice enhancement for this program because it creates another motivating feature," adds Witherspoon. "This has been a request for customers in the past; we listened and researched devices extensively to make this improvement."
Health Enhancement Systems creates employee wellness programs for organizations in North America and throughout the world. More than 20 effective, engaging HES wellness campaigns have been adopted by over a thousand organizations — serving hundreds of thousands of participants successfully.
For more information, visit HealthEnhancementSystems.com or call 800.326.2317.