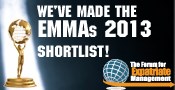 Greenback is honored to be shortlisted for this award, which recognizes the outstanding contributions companies are making to expats living around the world.
New York, NY (PRWEB) August 20, 2013
Greenback Expat Tax Services has been selected as a 2013 shortlist finalist for the prestigious Expatriate Management & Mobility Award (EMMA) for Tax Provider of the Year.
The EMMA's were created by the Forum for Expatriate Management to recognize and celebrate excellence in Global Mobility. Awards are given in 25 categories including Best Global Mobility in the Services Sector, Relocation Management Company of the Year and Most Innovative Use of Technology in Global Mobility. Past winners in various categories include Pepsi Co, Deloitte, TNT Express and Cigna Global Health Benefits.
Along with Greenback Expat Tax Services, other providers shortlisted for Tax Provider of the Year include Global Tax Network (last year's winner) and Grant Thornton. Greenback's shortlist nomination is a major recognition for this rising tax preparation company whose dedication and commitment to its customers was born from the experiences of its owners.
In 2008, American expatriates Carrie and David McKeegan found it overwhelming and expensive to file their US expat taxes. They decided to build a global company in an effort to fill an obvious need for expats living around the world. The goal was to create a highly specialized, customer-focused organization that would improve the lives of US expats through hassle-free expat tax preparation.
"We were living abroad and just couldn't seem to find affordable, customer-friendly expat tax preparers and decided that if we weren't able to find them, clearly there were other expats with the same frustration," commented David McKeegan, co-founder of Greenback Expat Tax Services. "We wanted to create the kind of company that we wanted to work with, and we are proud of what we have accomplished in a short period of time."
Greenback employs a unique business model that begins with an office-free environment. This allows the company to keep overhead low and offer fair, honest pricing to clients. With the virtual office concept, the company is not limited to finding CPA's in any particular area—they search the country to find the most experienced expat tax CPA's.
The transparent, flat-free pricing takes all the guesswork out of tax return pricing. Greenback Expat Tax Services' ultimate goal is to make the process as simple as possible for clients and exceed their expectations. Their data transmission is highly secure—128 bit encryption, which is what most banks use. In addition, they are currently serving customers in 88 countries and that number has grown consistently each year.
The EMMA awards are independently judged by some of the most highly esteemed professional in the industry. The results will be announced at the EMMAs Awards Gala Dinner at JW Marriott Las Vegas Resort and Spa on October 3.
More About Greenback Expat Tax Services
Greenback Expat Tax Services specializes in the preparation of US expat taxes for Americans living abroad. Greenback offers straightforward pricing, a simple, hassle-free process and CPAs and EAs who have extensive experience in the field of expat tax preparation. For more information about Greenback Expat Tax Services or to have Greenback prepare your tax return, please email Greenback Expat Tax Services at info(at)greenbacktaxservices(dot)com. You can also visit us at http://www.greenbacktaxservices.com.