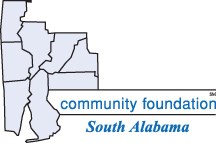 There is no other report like it in the region or the entire state of Alabama.
Mobile, AL (PRWEB) August 16, 2013
The Community Indicators Report – Counties in Focus 2012, released by The Community Foundation of South Alabama*, provides readers with an inside look at the overall wellbeing of the South Alabama region – tracking poverty, health & wellness, economic stability, educational attainment and more. The purpose of this 119 page comprehensive report is to inform, inspire and influence community members, policymakers, and business leaders working to make improvements in the eight county South Alabama region. Alvertha Penny, President and CEO of the Community Foundations states, "This information rich report captures the issues in our region and should be used as a guide for how we, as a community, work together, direct resources, and as an impetus for shifting our collective interest to improving the quality of life in the region. There is no other report like it in the region or state."
The Community Indicators Report not only narrates the issues that we have in our community, it also offers solutions and suggestions on how to address these challenges. The South Alabama region has enormous potential to be a regional economic and cultural powerhouse – providing many opportunities and benefits to its residents. Living Cities founder, Ben Hecht, lays out four principles for dynamic collaboration that aim to "take full advantage of both the individual and collective expertise and influence of participating institutions to accelerate social progress" and to use "local collaboration across sectors and issues [to] produce enduring change for low-income people." Living Cities operates on four basic principles: Create a Resilient Civic Infrastructure, Disrupt Obsolete and Fragmented Approaches, Engage Private Markets on Behalf of Low-Income People, and Establish a New Normal.
Many local administrations aim to benefit from the information being provided in this report. Organizations such as Big Brothers Big Sisters of South Alabama, the Bedsole Foundation, Mobile Junior League, United Way, Reid State Technical College, to list a few, can take the data generated by this report and use it to provide direction, and as a foundation for validity, for programs they implement in the area. Dr. Bert Eichold, Board Chair of the Community Foundations, believes that, "with all of the positive transition happening in our area, this report highlights where we need to focus our resources and efforts so that everyone can reap the benefits. For example, if you are working on healthcare issues, it provides you with a better understanding of what communities need the most help and what are the barriers to proper healthcare. This allows your organization, government, etc. to direct time and resources to address the root causes of issues."
Attached is a five page brief summary of Counties in Focus 2012 – a Community Indicators Report.
Visit http://www.communityendowment.org or click on the following link to access the full inclusive report. CLICK HERE
Media Inquiries – please contact Simone Washington at (251) 438-5591 or swashington(at)communityendowment(dot)org.
*The Community Foundation is a tax-exempt, nonprofit foundation that assists individuals, families, corporations and nonprofit organizations with charitable giving. We professionally manage the investment of charitable funds established by members of our community and use the returns to make grants to nonprofit organizations. By understanding the unique needs of our community we connect philanthropists with capable nonprofits to ensure the needs of our communities are met. Count on our expert guidance, strategic grant-making and estate planning options to make your giving easy and effective. We work with more than 400 charitable funds and tailor each one to meet the unique charitable interests of individuals, corporations and nonprofit agencies.http://www.communityendowment.org