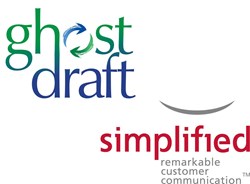 Communications management software combined with a customer-focused approach to what's written, restores and sustains a positive customer experience.
Toronto, Canada (PRWEB) August 19, 2013
GhostDraft Inc. has partnered with Simplified Communications Group to provide document design services that expand customer communications management to encompass the entire document lifecycle, and improve the customer experience.
In contrast to typical offerings that focus solely on technology, this new partnership attacks the customer communications lifecycle at its beginning, with guidance on how to create documents that are readily understood, reinforce a company's brand image, and prompt the desired response.
The Information Design Service covers all elements of good document design, including plain-language writing and presentation. Following discovery sessions and an assessment of their existing documents, clients are presented with a complete package for crafting effective customer communications, including model letters and emails, layout templates, and a style guide containing plain-language writing tips and design standards.
"Unlike an invoice or policy system where content is controlled by a few, it's not unusual to find a type of anarchy associated with customer communications. The result is language and design that's confusing and off-brand. Only through a combination of software to manage the system, and a customer-focused approach to what's written, are companies able to restore and sustain a good customer experience," says Peter Karavos, President and CEO of Simplified.
A recent study of insurance consumers revealed clear, personalized, customer-centric communication as the number one reason for choosing an insurer – above pricing, products and claims. "Effective customer communications can be the difference maker in driving retention and profitable growth," says Alan Bass, President of GhostDraft.
The Information Design Service includes all of the essentials to make significant and lasting improvements to a company's customer communications, and is in keeping with GhostDraft's approach to make enterprise-class Customer Communication Management affordable to companies of all sizes.
About GhostDraft Inc.
GhostDraft provides robust cloud-based document creation and management for insurance, financial services and the legal profession. With years of experience in complex regulated documents, and deep domain expertise in these industries, GhostDraft helps companies deliver customer communications without compromise, combining affordability, compliance, and a personalized customer experience.
About Simplified Communications Group
Simplified Communications Group provides consulting, writing and design services to help companies create communications that customers will read, understand and appreciate. Hired by more than 150 blue-chip brands across North America, Simplified's work reflects the very highest standard of information design excellence.