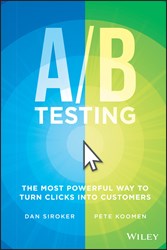 By using A/B testing, companies can improve the effectiveness of their marketing and user experience that can sometimes double or triple their conversion rates. - Dan Siroker, Co-founder of Optimizely
Hoboken, NJ (PRWEB) August 20, 2013
Authors Dan Siroker and Pete Koomen, co-founders of Optimizely, empower online businesses and marketers in a new book titled, A/B Testing: The Most Powerful Way to Turn Clicks into Customers, widely available on August 19. (Wiley, August 2013; ISBN: 978-1-118-53609-4; Hardcover & E-book; $27.95).
The first book on the topic of A/B testing delivers guiding principles for thousands of companies who are currently testing or interested in making it an integral part of their business. Through actionable examples, the book demonstrates the major business impact of A/B testing on huge enterprises and small businesses. Marketers, product managers, engineers are encouraged to explore and act on the practices that are changing the rules of business and democratizing decision-making on the web. The authors take a close look at individuals' experiences doing A/B testing at their companies to find and share the most illuminating insights for businesses on the web.
A/B testing is a simple and powerful way to test changes to a web page and determine which ones produce positive results. In the world of website optimization, it is a method to validate that any new design or change to an element on your webpage is improving your conversion rate, before making those changes to the site code.
"A/B testing is our entire business model as far as revenue," says Zack Exley, Chief Revenue Officer at the Wikimedia Foundation. "We don't have a product we can sell or improve. Our product is built by our users. The only thing we can do to bring in more money is to change the banner at the top of the site. A/B testing allows us to do this. It works. Read the book."
The market for A/B testing is growing quickly. In terms of adoption by the top 10,000 websites, Optimizely has grown 400 percent in the last year. Today, over 5,000 enterprises including Starbucks, Crate & Barrel, and Disney use Optimizely daily to improve their websites.
In the book, co-authors Siroker and Koomen share important aspects of A/B testing including:
● A/B testing testimonials from experts at Netflix, Wikimedia, Digg, Etsy, Dell, Disney, and more
● How to choose the testing solution that's right for your organization
● A roadmap for how to use A/B testing to personalize customer web experiences
● Tools to enable non-technical business owners to drive the process of optimization
● How to assemble an A/B testing dream team
● Why testing is a way of life at companies like Google, Etsy and Netflix
About the Authors:
Dan Siroker (SF, CA) is the CEO and co-founder of Optimizely. The original inspiration for Optimizely came from his experience as the Director of Analytics on the Obama 2008 campaign. Prior to Optimizely, Dan served as Product Manager for Google Chrome and AdWords. He has been featured on Bloomberg, the Wall Street Journal, New York Times and Wired and recognized by Forbes as Top 30 under 30 in Technology in 2013.
Pete Koomen (SF, CA) is the President and co-founder of Optimizely. Prior to co-founding Optimizely, Pete worked for Google where he was Product Manager for Google App Engine. While there, Pete helped launch and grow the App Engine platform to more than 150,000 developers in its first year. Before that, Pete earned an M.S. in Computer Science at the University of Illinois at Urbana-Champaign, and dual B.S.'s in Mathematics and Computer Science at Case Western Reserve University. He currently oversees Optimizely's product, engineering, and design teams.
For more information about A/B Testing: The Most Powerful Way to Turn Clicks Into Customers please visit http://www.abtestingbook.com, or follow us on Goodreads and Facebook.
A/B Testing
The Most Powerful Way to Turn Clicks Into Customers
Wiley; August 2013; ISBN: 978-1-118-53609-4; Hardcover & E-Book; $27.95
Contact:
Heather Condon, Publicist
WILEY
hcondon(at)wiley(dot)com – 201-748-6017
Helen Phung, Senior PR Manager
Optimizely, Inc.
helen(at)optimizely(dot)com - 619-245-1681