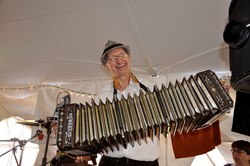 Galena, IL (PRWEB) August 15, 2013
Get your polka dancing shoes on and your wiener dog in tip-top racing shape for the 7th annual Galena Oktoberfest taking place on October 5. This event takes place at Depot Park, 99 Bouthillier St., just east of the Galena River near the intersection of U.S. Highway 20 and Park Avenue; from noon to 10 p.m. Galena Oktoberfest is hosted by the Galena Lions Club and all of the proceeds are donated to help individuals with sight and sound needs, as well as to support community projects.
People of all ages enjoy Galena Oktoberfest, as it features non-stop live music by three bands, polka dancing and lessons, wiener dog races and parade, a beer stein endurance contest, a bean bag tournament, bounce houses and activities for the kids, and of course plenty of German-style food, soda, and beer. The day begins at noon with a cannon blast and the ceremonial tapping of the keg, followed by the popular wiener dog races. Online pre-registration is encouraged for both the wiener dog races and the bean bag tournament.
The big white tent provides plenty of seating and shade for eating and dancing. Take a spin on the dance floor and let Jennifer Mulcahey, of Ballroom by Jennifer, teach you how to polka. Back-to-back bands include two polka bands, the Jim Busta Band from Spring Grove, Minn. and The Goodtime Dutchmen from Kewaskum, Wisc., and local, up-beat favorite The Lonely Goats from Dubuque, Iowa.
Gate tickets to Galena Oktoberfest are $5 for adults and teens; children 12 and under are admitted free. Parking is free near the festival site. Festival goers can also take a ride on the free trolley that will be shuttling visitors from the Galena's historic Main Street to the festival.
For more information about Galena Oktoberfest and the Galena Lions Club, go to http://www.galenaoktoberfest.com or call 815.331.0180. Visit Galena Oktoberfest on Facebook for updates and to find out 'Where in the World is Otto?'
Find lodging and learn more about Galena, IL when you visit http://www.VisitGalena.org or call 888.942.5362