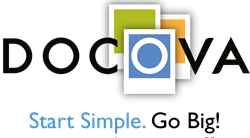 Toronto, Ontario (PRWEB) August 20, 2013
DOCOVA is excited to be silver sponsor and presenter at the upcoming Midwest Lotus User Group (MWLUG 2013) in Indianapolis, Indiana from August 21 to 23, 2013. IBM Notes & Domino and Quickr attendees should connect with DOCOVA during MWLUG for the latest solutions for Document Management, web-enabling IBM Notes & Domino applications (to Cloud and/or mobile), and migrating Quickr and Domino Document Manager (DDM).
Arif Jaffer, VP of Sales, DOCOVA, will present "Microsoft SharePoint: Resistance is futile....or is it?", focusing on the strengths and weaknesses of Microsoft SharePoint as it relates to IBM Notes & Domino. The real cost for collaboration, document management, and portals will be explored. Lastly, several examples will be shared to show the level of effort required to replace or migrate a Domino application.
DOCOVA specialists will share their expertise with participants in several key areas:

Future Options for Quickr
Given the recent IBM announcement on Quickr's withdrawal from marketing, customers are expressing concern. Understand the future options for Quickr and best practises for providing collaboration and user-friendly document management on Domino. Read more at http://www.docova.com/quickr.
Domino Document Manager Migration
Those customers still using Domino Document Manager (DDM) should move to a modern, supported platform for document management. Cost-effective solutions are available, even if an old version of DDM on a pre-Domino R6 server is in use. Learn how a low-risk Proof of Concept is the way forward for DDM. Download a success kit at http://www.docova.com/ddm.
Business Applications on a Web Platform
The maturity and standardization of web technologies is giving way to web application platforms. Learn how to move your Lotus Notes applications to a web platform and make accessible on mobile devices. Experience how a web application platform can save time developing and deploying Domino-based enterprise applications, improve user acceptance and organizational performance. Learn how a web application platform reduces the pressure on the overall I.T. budget.
MWLUG is one of the largest user groups focused on IBM Collaboration and Social technologies. Registration details, session overviews and more for this free conference are available at http://www.mwlug.com/.
The DOCOVA Advantage
DOCOVA is a global company that offers an enterprise-class document and application management platform for SMBs and departments of large companies. All can be handled by the agile DOCOVA platform:

Domino Document Manager and Quickr migrations
Web-enabling Domino applications for web and mobile access
Business process applications
Use DOCOVA on-premise, in the cloud, or hybrid – you choose! From Secure File Sharing to Records Management, "Start Simple, Go Big!" Learn more at http://www.docova.com.