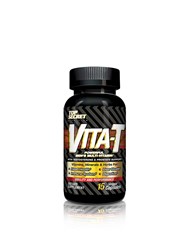 Vita-T, the latest multi-vitamin for men, takes a holistic approach to address a man's health and sense of well-being
Miramar, Florida (PRWEB) August 17, 2013
Top Secret Nutrition has built its reputation by meticulously designing and marketing unique, industry leading and effective nutritional supplements of the highest quality. Vita-T™ is the latest example of such a supplement. Marketed as a multi-vitamin for men, Vita-T™ was designed to be a much more comprehensive contributor to a man's health and sense of well-being.
Vita-T™ joins its very successful sister product Natural-T™ (natural testosterone booster) as the flagship products of the line being offered by Top Secret Nutrition under the slogan "upgrade your man-card". With 7 unique and effective blends, the supplement targets the key areas of the body and mind that "make a man a man." These areas include:

Essential vitamins and minerals
Virility, testosterone and prostrate support
Heart health
Liver health
Pre-biotic and pro-biotic digestive support
Sports performance support
Antioxidant and herbal support
"We did not want to create just another man's multi. We wanted to come out with a product to keep young men feeling young and make older men feel young again, and for that we had to look at many other aspects besides simply vitamins. We wanted to create a product so good that it would be emphatically recommended by the men who took it to other men. We did not stop designing Vita-T™ until we were sure that we had the best and most comprehensive product in its category. Actually, Vita-T™ may have created a brand new category" states Tom Richardson, Top Secret Nutrition's CEO.
The list of ingredients and how these combine to achieve great results is too lengthy to be included in a press release. Top Secret Nutrition invites every man and the women who love them to visit http://www.topsecretnutrition.com and look at the supplement information sheet included within the Vita-T™ product tab.
About Top Secret Nutrition:
Top Secret Nutrition is a developer and marketer of high-quality nutritional supplements with the purpose of "Fueling Active Life Styles 24/7" and is considered a leader in sports nutrition, general heath and weight management supplementation. The company currently has over 60 products spanning across the three supplementation segments. These products are widely available in the United States at some of the most relevant retailers such as Bodybuilding.com, GNC, Vitamin Shoppe, and Vitamin World. Europa Sports, Select Nutrition Distributors, and the Chiropractor's Buying Group also distribute the products to a wide network of retailers. Top Secret Nutrition's products are increasingly available in international markets.
Top Secret Nutrition is based in Miramar, Florida. All of its products are manufactured in the United States using Good Manufacturer Practices (GMP) certified labs. For more information or to schedule an interview, please contact Tom Richardson at (954) 496-9600 or tom(at)topsecretnutrition(dot)com.