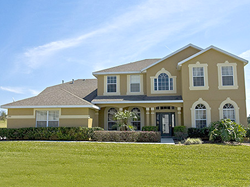 "A luxury Villa for the daily price of a hotel seeing is truely believing will be doing this again soon as possibly." - RJ Combs
Orlando, FL (PRWEB) August 15, 2013
Families, honeymooning couples, groups of friends -- all are clamoring for vacation homes in Orlando. Having experienced (or at least heard of) the cramped conditions of the area's standard hotels and motels, visitors are anxious to experience the wonders of Disney World and Universal Studios without the stress caused by crowded, dirty and ultimately less than satisfying accommodations.
Luxury villas serve as excellent alternatives to the usual hotel setup, but many vacationers worry that such exquisite accommodations are financially out of reach. But this is no longer the case, thanks to the recent opening of exclusive deals from vacation home provider Villa4Less. Eager to bring more tourists to Orlando in the off-peak fall season, Villa4Less has announced several specials on its most popular vacation homes in the Disney World vicinity.
According to the latest Villa4Less special deal, visitors now can stay in such stunning areas as Emerald Island Resort and Formosa Gardens Estates at a price a full ten percent less than the Villa4Less standard -- which is largely viewed as affordable in and of itself. In order to snag this deal, vacationers must reserve regularly sized family villas for a minimum of four nights or larger six-room villas for seven nights during the months of September and October. Considered part of the off-peak season, these months are perfect for visitors looking to escape the long lines, crowded accommodations and sweltering heat typically present during the busier summer months.
For vacation homes, Orlando is the ultimate destination -- few other locales can claim to even come close in terms of nearby attractions and sheer climate. A Disney rental home offers visitors easy access to the world's best known collection of theme parks, allowing for a level of convenience that cannot be matched by luxury vacation rentals in other regions. And the Orlando luxury villa setup offered by Villa4Less stands apart even among Orlando vacation rentals thanks to that rare combination of elegant accommodations and affordable prices. Located within the confines of Orlando's finest gated communities, these rentals allow residents to experience the comfort of a home away from home with the added luxurious touches that can only accompany the perfect vacation.
Past residents have raved about the surprising affordability of the accommodations provided by Villa4Less. Already quite reasonably priced without the inclusion of fall specials, Villa4Less is unique in that it allows larger groups to share accommodations and, of course, split the cost among themselves. in this way, visitors are often able to enjoy luxury housing for a price that is well below that of lower-quality area hotels and motels. For those who initially remained wary surrounding the possibility of springing for an Orlando luxury villa, the inclusion of the exclusive Villa4Less fall special should be more than enough to ease those financial qualms. Dedicated Disney vacationers agree -- the Villa4Less vacation rentals provide the perfect place to crash during an action-packed Orlando getaway.