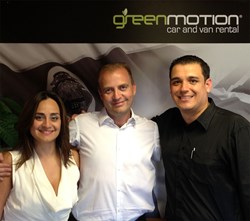 We are thoroughly looking forward to welcoming Green Motion customers to our beautiful country.
(PRWEB) August 17, 2013
The ecological car hire company, Green Motion, confirmed today that the international development of its brand is continuing with the sale of its first Master Country Franchise in Central America, being Costa Rica.
Green Motion's master country franchise for Costa Rica has been purchased by Toyota Rent a Car, part of the Purdy Motor Group, who amongst other things are the main importer and distributor for Toyota and Lexus cars.
Toyota Rent a Car has been in the market for 45 years, and has a differentiated proposal of environmental sustainable rentals and top quality customer service.
Richard Lowden, the founder of Green Motion said, "This is another major leap forward for the Green Motion brand and our business. We are steadily increasing our presence within the Americas with us recently acquiring our first franchise in the United States (Florida), with an already extensive operational presence in Mexico. – The introduction of Green Motion to Costa Rica confirms that we are a major force within the region."
Richard went on to say, "We are thrilled that the Toyota Rent a Car have acquired our master franchise for Costa Rica. They have already demonstrated superior levels of customer service and their commitment to the environment is outstanding – I have no doubt whatsoever that they will be an invaluable operational partner for the Green Motion brand."
Pablo Bogantes, the General Manager of Green Motion Costa Rica said, "We feel privileged that we have been awarded with the master rights for the Green Motion brand within Costa Rica. Green Motion's focus on the environment fits very well with our company's ethos and we are confident that we will work extremely well side by side. Myself and my management team are thoroughly looking forward to welcoming Green Motion customers to our beautiful country."
Green Motion Costa Rica will offer low C02 vehicle rental from 8 locations across the country including Alajuela International Airport and Liberia International Airport. In terms of fleet, due to their relationship with the parent company, Purdy Group, the majority of vehicles on offer will be cars and vans from the Toyota and Lexus range, including Hybrid vehicles.
For further information on hiring a car from Green Motion in Costa Rica, please visit http://www.greenmotion.com/.