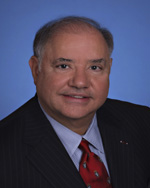 Since 1981, Vento has been with the prestigious Tampa Bay law firm of Trenam Kemker, being named a shareholder in 1985.
Tampa Bay, Florida (PRWEB) August 21, 2013
Florida Supreme Court Certified Circuit Civil mediator John Vento has joined the premier legal site Mediation.com to share his knowledge with those inside and outside of Florida. Vento's career has taken him from the United States Air Force, where he served as an international and procurement lawyer, to Tampa Bay, Florida where he is known for his expertise in construction law and government contracting. Just recently, Vento was named as the "Construction Lawyer of the Year Tampa 2014" by Best Lawyers in America.
In addition, Vento is certified as a mediator in the courts of the Middle District of Florida, and is Florida Bar Board Certified in Construction Law. He frequently speaks and writes on construction and government contracting issues. John currently serves on the Governing Committee of the ABA Forum on the Construction Industry.
"Mediation plays an important role in many of my cases," Vento said. "I am excited about sharing my experiences with the readers at Mediation.com."
While in the Air Force, Vento served as an Assistant Law Professor at the U.S. Air Force Academy. Upon his retirement as a Colonel from the Air Force Reserve he was awarded the Legion of Merit. He is also a graduate of the University of Michigan School of Law with an LL.M in International Law, where he was a Michigan Scholar for high academic achievement. Vento received his J.D., cum laude, from Duquesne University School of Law. On academic leave of absence from the USAFA Faculty, he was a National Endowment Fellow at Yale Law School.
Since 1981, Vento has been with the prestigious Tampa Bay law firm of Trenam Kemker, being named a shareholder in 1985. In July, Vento and 31 of his colleagues were recognized as Super Lawyers by the research team at Thomas Reuters.
"I have worked several complex cases where mediation was essential in resolving the case," Vento said. "I was lead counsel for a major public transportation authority in the collapse of an elevated expressway where mediation successfully resolved both the contractor's $25 million claim against the authority; and the authority's design and insurance claims, achieving for our public client a total of $85.75 million in compensation." (PCL v. THCEA, 10-CA-7272, 13th Judicial Circuit of Florida, Civil Division; THCEA v. URS, et. al., 05- CA- 8813, 13th Judicial Circuit of Florida, Complex Business Division)
Vento has been a shareholder at Trenam Kemker since 1985 and believes its simple principle —that achieving success for their clients is paramount. While at Trenam, Vento has handled complex and challenging cases including:

Serving as lead Trial Counsel in the successful defense of a government contractor, who was sued in federal court on a $22 million qui tam whistleblower fraud case, obtaining an involuntary dismissal (directed verdict) after the third day of trial. (Chabot v. MLU Services, Inc., 06-cv-1528-ORL, United States District Court for the Middle District of Florida, Orlando Division)
Serving as lead Trial Counsel for a major electrical utility in a one-month trial against a top-tier international engineering firm, obtaining over $40 million after the judgment was affirmed on appeal. (Florida Power v. Black & Veatch, 04-2175-CI-8, 6th Judicial Circuit of Florida)
Successfully settling the contractor's disputed final payment for the renovation of a data center for a major supermarket chain. Vento also drafted the design build documents for the renovation of the data center and the construction of a new data center, as well as drafting the chain's construction contracts for new construction and renovation of stores in 4 states.
As Chair of Trenam Kemker' s Construction and Government Contracting Practice Group, Vento says, "We are sensitive to our clients' need to manage their legal costs and we do it without sacrificing value or service."