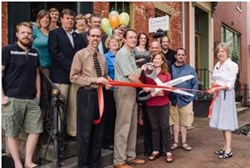 Frederick, MD (PRWEB) August 17, 2013
Cowork Frederick announces their first anniversary open house celebration, to be held September 4, 2013 from 5 p.m. to 9 p.m. Meet and mingle with freelancers, entrepreneurs and other business professionals of Cowork Frederick while enjoying delicious food and drink from local favorites Savory Spoon, Spin the Bottle, and Brewer's Alley. Tickets are available at coworkfrederick.com and are just $10. Proceeds will benefit a local charity to be voted on by participants on the night of the event.
Cowork Frederick is a collaborative working environment, a coworking space for independents, freelancers, entrepreneurs, and telecommuters. "We exist so that small businesses can thrive. Studies show that working at a coworking space rather than alone improves productivity, creativity, and, well, overall happiness. On any given day you'll find writers, engineers, software developers, web designers, marketers, scientists, project managers, photographers and more working, learning and teaming up at Cowork Frederick: a writer helping a web designer perfect content, a website developer teaming up with a Search Engine Optimization specialist to broaden the solutions he can offer to his customers. Or, maybe someone just overhears a conversation, joins in, and learns something new—about photography, sending invoices, or the latest meme. We call it 'accelerated serendipity' and it happens all the time at Cowork Frederick," says Julia Ferguson, keeper of Cowork Frederick.
Glen and Julia Ferguson opened Cowork Frederick September 4, 2012 wanting to bring such a workspace to Frederick. Building the coworking community is key and they began that even before their doors opened. Within their first month, Cowork Frederick had 20 members and has maintained an average of 33 members since. Twelve local artists, including Sara Knox and Bill Adkins, have participated in their Artist of the Month program, which gives the artist free use of the Cowork Frederick Community Room for an exhibit and reception each First Saturday in exchange for leaving the art on the walls for the rest of the month.
The space has also been buzzing with events, including a Frederick Gorilla "Behind the Cover", book signings by two authors, AIGA, Social Media Club, and Frederick Web Technology Group meetings, numerous classes, member breakfasts, happy hours and movie nights, and the popular Cowork Frederick Friday Lunch & Learn series. Cowork Frederick has three meeting spaces, a Conference Room, Collaboration Room, available from 7 am to 10 pm, and a Community Room, available evenings and weekends. Members and non-members alike can reserve them.
Cowork Frederick offers membership levels that range from one day per month to full-time 24x7 access for between $25 and $250. A "Day Pass" for non-members runs just $25, which is applied toward membership if you sign up. There are options for a dedicated desk, a locker, and they've just announced a new mailbox service and participation on the Coworking Visa Program.
Key to their business model is operating in a sustainable fashion. Recycling, buying local and organic, and using recycled or repurposed materials is a normal part of every day at Cowork Frederick. They just signed a contract under the Frederick Green Homes Challenge to have solar panels added to their roof.
If you'd like to attend the Cowork Frederick one-year anniversary open house, please visit coworkfrederick.com or call 301-732-5165.