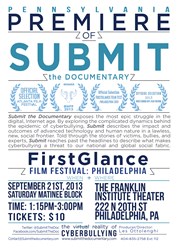 Every parent should see this with their child
Philadelphia, PA (PRWEB) August 23, 2013
SUBMIT, a cyberbullying documentary, is being shown for the fourth time in their film festival run. "Submit the Documentary" is appearing next at the FirstGlance Film Festivals Saturday, September 21, 2013 at 1:15 pm EST at The Franklin Institute Theater, 222 N 20th St. Philadelphia, PA 19103. Tickets are $10.00 visit: http://firstglancefilms.com/official-selection/submit-the-documentary/.
FirstGlance Film Festival was named five times as one of the "Best Film Festival Investments" by Movie Maker Magazine and "One of the Festivals for the Rest of Us" by Time Magazine. FirstGlance has become a leader in mid-sized film festivals.
Applauded by filmmakers and attendees as one of the best programmed festivals, FirstGlance accepts all genres and shows an amazing mix of short and feature length films, the best indie films on the festival circuit, before they hit theaters. Audiences vote for "Best of the Fest" and are invited to come mix and mingle with filmmakers, cast and crew at great after parties.
Recent Film Festivals reviews include prominent film reviewer Terrence Faulkner who previewed the film for White Sands International Film Festival explains, "Unexpectedly enlightening, this documentary is a sober and somber view into the very real world of cyberbullying. This documentary very poignantly presents the dangers and reality of cyberbullying and the sad outcome of ignoring this powerful not-so-silent enemy affecting America's youth. Stylistically reminiscent of the documentary "Waiting for Superman," this film focuses on school-age kids and the detrimental deadly effects of what they face both inside and outside of the walls of their schools. Every parent should see this with their child."
"Submit the Documentary" has also been accepted into the United Nations Association Film Festival scheduled for the end of October in San Francisco along with a press conference with the World Affairs Council September 19, 2013. Previously, the film was shown at the 2013 Buffalo Niagara Film Festival where they received their first award for second place in the documentary category along with the film's world premiere at the 2013 Atlanta Film Festival.
For more information, screening kits, and showing information, please visit http://www.submitthedocumentary.com/.