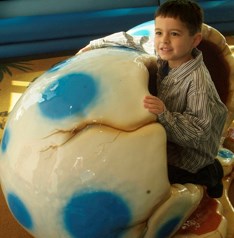 Play is a priority for this hospital and for holistic patient- and family-centered health care of children.
Denver, CO (PRWEB) August 19, 2013
US News & World Report recently ranked the nation's top children's hospitals and several of the named organizations have either installed PLAYTIME playgrounds in their facilities or have sponsored play areas at nearby shopping centers.
They include:

Children's Hospital Colorado
MD Anderson Children's Cancer Hospital
SSM Cardinal Glennon Children's Medical Center
Steven and Alexandra Cohen Children's Medical Center
"Hospitals are definitely trying to focus more on family-centered care," says Dori Mommers, certified Healthcare Interior Designer with RTKL Associates Inc. "They are trying to get the family more involved in a child's care."
SSM Cardinal Glennon Children's Medical Center installed an outdoor play area in 2012. Dan Buck, executive director of the center's Foundation, says, "I had a father come up to me with tears in his eyes. He told me it was the first time that his daughter's siblings had gotten to play with her in a long, long time. I thought, 'Wow, this really matters.' That little girl had been in the hospital for many weeks and the play area helped her whole family have fun together. It was pretty profound."
PLAYTIME manufactures custom-themed, soft play areas that are ADA-design compliant and ASTM-certified antibacterial to ensure a healthy, inclusive play environment. The company has installed soft play areas at Hasbro Children's Hospital, Baton Rouge Medical Centers, Ronald McDonald House, Titus Regional Medical Center, Gigi's Playhouse Down Syndrome Awareness Center, and many others.
Todd Kreinbrink, PLAYTIME's healthcare specialist, says, "Many hospitals also sponsor play areas at nearby shopping centers to promote healthy play as well as the hospital's brand. The play areas provide exposure to potentially millions of shoppers each year as they also allow the hospitals to host wellness events for the community."
For example, the Children's Hospital of Philadelphia sponsored a play area at nearby King of Prussia Mall.
"CHOP is proud to partner with King of Prussia Mall to provide a fun space that promotes healthy habits and nurtures kids' imaginations," said Madeline Bell, CHOP president and chief operating officer. "We are dedicated to serving families and children in the communities surrounding Philadelphia through our extensive Care Network of primary and specialty care offices."
Tami Pollari, Director of Patient- and Family-Centered Services at the University of Iowa Children's Hospital, says, "Even in the hospital, play is the work of children. Play is a priority for this hospital and for holistic patient- and family-centered health care of children."
For more information about healthcare play areas, contact Todd Kreinbrink (303-662-0302 or Todd(at)PLAYTIME(dot)com) or download a brochure: http://go.playtime.com/download-all-brochures/.
PLAYTIME is the global provider of unique, interactive indoor, outdoor and water play areas and playground equipment. Family-friendly businesses that want to stand out, hire PLAYTIME to create powerful play experiences.