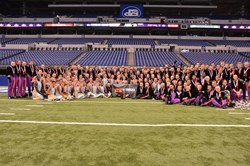 "Crown and Yamaha, together we champion music and education in the arts," said Jim Coates, Executive Director of Carolina Crown.
Indianapolis, IN (PRWEB) August 16, 2013
Carolina Crown, a drum and bugle corps based in Fort Mill, South Carolina, won its first Drum Corps International (DCI) championship last week at Lucas Oil Stadium in Indianapolis. In addition to its championship victory, the corps received the Jim Ott High Brass award for the third year in a row, scoring a perfect 20.00 (the first time a perfect score in brass has ever been achieved). Corps using Yamaha brass instruments have now won eight high brass awards since the activity switched from the key of G to Bb in the year 2000.
In 2007, Carolina Crown began playing on Yamaha brass and percussion instruments, and using pro audio equipment. From 2008 on, the corps placed fourth or higher every year, finishing second two times. They are the first corps to ever win a DCI championship in the Open Class and the World Class levels.
"Crown and Yamaha, together we champion music and education in the arts," said Jim Coates, Executive Director of Carolina Crown. "Without them, we wouldn't sound the way we do and we choose them because of their dedication to education and the quality of their instruments."
Carolina Crown is the 16th drum and bugle corps to win a DCI championship using Yamaha products since 1985, the most wins for any brand over this time period.
"There is a direct relationship between the CROWN SOUND and the quality of the instruments at the end of our mouthpieces," said Matt Harloff, Brass Captain Supervisor, Carolina Crown. "Tone quality and intonation has been the cornerstone of our brass program for years and Yamaha has helped us lay that foundation since the day our partnership began. Championships are won through teamwork and we are so thankful that Yamaha is a member of Team Crown."
Another Yamaha-affiliated drum and bugle corps also earned distinction at DCI this year: The Cadets, based in Allentown, Pennsylvania, won the Fred Sanford High Percussion award, the fifth time they have won this award since 2001, when they began their affiliation with Yamaha. The award, named after Fred Sanford, a DCI percussion legend and former Yamaha Artist, has been won 14 times by Yamaha-sponsored corps, the most wins compiled by any brand during this time period. Yamaha Artists Colin McNutt and Iain Moyer instruct the Cadets' percussion section; this is McNutt's first High Percussion award as DCI instructor.
"Yamaha percussion makes musical nuance possible, even when running at 202 beats per minute on a football field," said McNutt. "They offer top quality musical instruments."
Known as Marching Music's Major League, DCI has developed into a powerful, non-profit, global youth activity with far-reaching artistic, educational and organizational influence, providing entertainment to millions through live performances and nationally televised events.
For more information, write Yamaha Corporation of America, P.O. Box 6600, Buena Park, CA 90622; telephone (714) 522-9011; e-mail infostation(at)yamaha(dot)com; or visit http://4wrd.it/winds and http://4wrd.it/MARCHPERC.
About Yamaha
Yamaha Corporation of America (YCA) is one of the largest subsidiaries of Yamaha Corporation, Japan and offers a full line of award-winning musical instruments, sound reinforcement and home entertainment products to the U. S. market. Products include: Yamaha acoustic, digital and hybrid pianos, portable keyboards, guitars, acoustic and electronic drums, band and orchestral instruments, marching percussion products, synthesizers, professional digital and analog audio equipment, Steinberg recording products and Nexo commercial audio products, as well as AV receivers, amplifiers, Blu-ray/CD players, iPod docking systems, home-theater-in-a-box systems, earphones, headphones, sound bars, and its exclusive line of Digital Sound Projectors. YCA markets innovative, finely crafted technology and entertainment products and musical instruments targeted to the hobbyist, education, worship, professional music, installation and consumer markets.