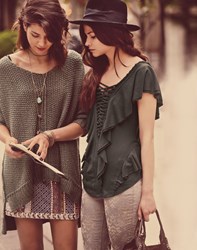 Our West Coast customers are so incredibly passionate about the brand, and we are happy to bring a new boutique into this beautiful community.
Santa Clarita, CA (PRWEB) August 16, 2013
Specialty clothing brand, Free People, is set to open its 84th boutique at Westfield Valencia Town Center in Santa Clarita, CA on August 23rd, 2013. The store is sure to make a great addition to the shopping center with a unique design and a curated selection of new fall merchandise.
The new location has been designed with the brand's 'Boho Bungalo' concept. The look and feel represents Free People's globe traveling girl and the collections that she curates and displays within her environment. The store at Valencia Town Center will be unique in that it will also channel a more metropolitan vibe, welcoming customers with a steel storefront and featuring reclaimed wood beams, columns, and doors. In the store's rear, a custom-carved cashwrap is illuminated by a sunny skylight highlighting mica plaster walls.
Just in time for the fall season, the store will open with a great assortment of the jackets, knits, and denim that Free People's free-spirited L.A. customer loves so much. A big focus will be on the brand's jacket shop, featuring a wide variety of styles, shapes, and fabrications. Apart from denim and fall knits, the store will have a fashion-forward selection of pants and dresses in an autumnal color palette. A variety of skinny and flared bottoms are stocked to pair perfectly with Free People's selection of graphic tees and tunics.
"We are very excited to open at Westfield Valencia Town Center this month," say Beth Wehagen, Director of Stores for Free People. "Our West Coast customers are so incredibly passionate about the brand, and we are happy to bring a new boutique into this beautiful community."
Each of the brand's boutiques has a full team of styling experts to help shoppers get a complete Free People look, but inspiration can also be found with Free People's online Style Community, FP Me. This offers all Free People girls a way to share their personal style, create looks, curate collections, and connect with other FP fans. Shoppers in Santa Clarita can now shop the website or new boutique and share their wears with a global fashion Community through FP Me.
Customers are invited to receive a complimentary Free People nail polish on opening day while supplies last. The store is located at 24201 West Valencia Blvd., Santa Clarita, CA 91355. Store hours will be Mon.-Sat., 10 a.m.-9 p.m. and Sun., 11 a.m.-6 p.m. The store's telephone number will be (661)253-5067. Fans should also "like" the store on Facebook to stay up-to-date on all of the latest arrivals, events, and other happenings. (https://www.facebook.com/FreePeopleValenciaTownCenter)
###
About Free People
Free People is a specialty clothing brand featuring the latest trends and vintage collections for women who live free through fashion, art, music, and travel. The bohemian look consists of quality apparel, shoes, and accessories that invoke attributes of femininity, spirit, and creativity with its design. Free People is distributed globally via direct channels including the Free People Global site and Free People UK site, as well as specialty boutiques, top department stores, and the brand's free-standing retail locations in the U.S. and Canada.
About The Westfield Group
The Westfield Group is an Australian-based company with interests in 100 shopping centers in Australia, New Zealand, the United Kingdom and the United States. In the U.S., the Group has a portfolio of 47 shopping centers that are home to nearly 8,000 specialty stores and comprise approximately 55 million square feet of leasable space in California, Connecticut, Florida, Illinois, Indiana, Maryland, New Jersey, New York, North Carolina, Ohio and Washington.