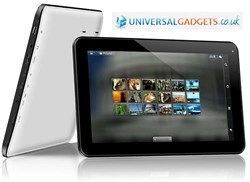 (PRWEB UK) 19 August 2013
Just in time for the back to school sales, Universal Gadgets have released several new electronic products, including a range of powerful yet affordable tablets and a selection of used smartphones.
Tablet computers have seen a huge rise in popularity over the last year, and Universal Gadgets new product range is perfect for those looking to own a tablet of their own without paying the usually steep high-street prices.
The company's flagship tablets are the new 16GB A20 7-10" models. Each features the impressive Allwinner A20 dual core processor, and run the immersive Android 4.2 Jellybean. With 16GB of memory available (which is expandable via microSD up to 32GB) there's plenty of room to download all your favourite apps from the Google Play Store.
When coupled with their built-in microphone and speakers, the tablet's dual camera makes it perfect for social apps, allowing you to effortlessly video chat with friends and family whilst on the go.
With the school year due to begin next month, these tablets are perfect for all of those looking for affordable alternatives to the pricier models. They include many similar features to the high-end versions, at only a fraction of the price.
The company also began selling new and used mobile phones earlier this year. They now boast an impressive selection of handsets, including many up-to-date smartphones. Customers can choose from multiple generations of iPhones, from the earlier 3G model to the latest 16GB iPhone 5. The incredibly popular Samsung Galaxy S4 is also now available, providing customers with access to the greatest models without the expensive price tag.
A spokesperson for the company highlighted the variety of features available with the new tablet range:
"We're incredibly pleased to be able to offer such a broad range of electronics at such a great price.These Allwinner A20 tablets are the perfect alternative to heavy laptops. Whether they're used for work or play, they have everything you need to enjoy the full tablet experience. After all, why should you spend more in high street stores when you can get all the gadgets you need from Universal Gadgets for a fraction of the price?"
Previously noted as being the first UK seller to reach one million feedback on Ebay, Universal Gadgets have gone from strength to strength over the last year.
----ENDS----
About Universal Gadgets:
Universal Gadgets are a UK based online retailer. With free UK delivery on all items, and same-day dispatch if you order before 3pm, Universal Gadgets are the one-stop-shop for all your favourite gadgets.