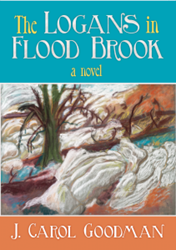 Williamstown, MA (PRWEB) August 19, 2013
Colderidge Logan thinks moving his daughters from Chicago and its many temptations to a small village in Vermont will be the answer to their prayers. The reality, however, differs greatly from the expectations in this new novel set in the time of Prohibition and the Great Depression. Thirty-eight-year-old Florence was addicted to the alcohol she found in Chicago's speakeasies, and 43-year-old Noncie feels no confidence she can find a man who will make her happy with marriage and children. Seeing someone shoot their dog only a few weeks after moving to the village adds fuel to their suspicions about their neighbors.
"The Logans in Flood Brook" chronicles the struggles of the Logan family to fit in to their new home. The villagers have their own secrets. When Florence finds a hidden still owned by an unhappily married man, she soon persuades him to share the fruits of that illegal device. The two find comfort in their broken pasts and begin to fall in love. Noncie and Papa have their own crosses to bear and must forge their own relationships as the reason for moving to Vermont becomes less and less relevant. An orphan enters their lives and quickly takes up residence in their hearts, but events take a darker turn when an accident happens. Surprising discoveries create new opportunities, and suddenly some happy endings become possible.
Author Carol Goodman has published stories in literary magazines and won awards. She was born in Rahway, N.J., and grew up next to a house of prostitution in her ethnic community. She attended a boarding school in Vermont and graduated from Bennington College, getting a husband and baby in addition to her degree. The mother of four began writing and received grants from New Jersey and fellowships for such organizations as the Virginia Center for the Creative Arts and the MacDowell Colony, the oldest artists' colony in the United States. Goodman is working on a novella and a collection of stories.
----------
For additional information, please visit http://www.jcarolgoodman.com/.
The Logans in Flood Brook
J. Carol Goodman
Dog Ear Publishing
ISBN: 978-1-4575-2044-0 | 216 pages | $27.95 US
Available at Ingram, Amazon.com, Barnes & Noble and fine bookstores everywhere.
About Dog Ear Publishing, LLC
Dog Ear Publishing offers completely customized self-publishing services for independent authors. We provide cost-effective, fast, and highly profitable services to publish and distribute independently published books. Our book publishing and distribution services reach worldwide. Dog Ear authors retain all rights and complete creative control throughout the entire self-publishing process. Self-publishing services are available globally at http://www.dogearpublishing.net and from our offices in Indianapolis.
Dog Ear Publishing – self-publishing that actually makes sense.