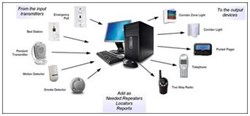 Hayden, ID (PRWEB) August 15, 2013
Systems Technologies, a leading provider of emergency call systems for nursing homes, assisted living centers and continuing care retirement communities now offers lightweight, inexpensive two way radios for use with the Vision Link Wireless Nurse Call System and VisionPro and MicroVision 400Z Wireless Emergency Call Systems. Staff receives voice notification of any alarm event assigned to them in system programming. Flexible escalation automatically sends the alarm to additional staff members if the event is not canceled within the pre-programmed time interval at the wireless station, fall alarm transmitter, pendant, or any wireless device that originally transmitted the call for assistance.
This allows staff to receive notifications completely handsfree and still be able to call for assistance. If they are busy they can let other employees know so someone else can respond to the alarm and help the patient more quickly. The radio is equipped with a lightweight and nearly invisible surveillance style "headset" so that staff receives a voice announcement as each alarm is sent to them and call cancel notifications if someone else gets to the patient first. A tiny microphone clips to their lapel and activates with a single button press so they can let others know where they are and what they need.
An automatic override feature ensures that the alarms are always announced by silencing any "chatter" on the channel while a new alarm is announced. Managers will also love the fact that they have their own channel separate from the rest of the staff in case they need to contact each other. Vision Link, VisionPro and MicroVision 400Z clients can call Systems Technologies to receive two radios for a 30 day free trial.
Systems Technologies is well known for their VisionLink nurse call systems and VisionPro emergency call systems. These flexible systems can be customized to meet the needs of any size healthcare facility to provide improved safety for patients and managed freedom for residents. In addition to a wide variety of wireless flush mount style stations Systems Technologies also offers unique multi-function personal pendant transmitters with automatic fall alarm, wandering patient notification, patient location, push for help and call cancel functions. These systems can also be used to monitor emergency exits, stairwell doors, water overflow, temperature change or other hazards. The alarm information can notify any combination of computer or wireless desktop consoles, LED reader-boards, central monitoring station, IPADS, email addresses, cell phones, pocket pagers, wireless phones and, of course, two way radios.
Managers love the Vision Link and Vision Pro remote capability that give them the ability to review events, enter programming changes, print reports and make necessary assessments to ensure the safety and comfort of patients or residents from on site or off site. They sleep better at night knowing that the program is always backed up and help is only a toll-free phone call away. Every safety feature has been incorporated into a total solution engineered to be easy to set up and simple to use.
To learn more about adding two way radio notification, visit http://www.wirelessnursecall.com/ or call
1-888-826-3394.
About Systems Technologies:
Since 1994 Systems Technologies has been an industry leader in the design and manufacture of wireless nurse call and emergency call systems for healthcare and emergency services. The company designs and manufactures patient call systems for use in hospitals, nursing homes, clinics, assisted living, senior living and emergency services. System Technologies offers many options for integrated wireless emergency patient call systems from clinics and nursing homes to large continuing care communities and campus environments. Among the products the company provides are wireless pendants, call cord patient stations, corridor call lights, emergency pull stations and security devices on a wireless platform with flexible alarm notification and event escalation to pocket pagers, cell phones, email addresses, two way radios, Spectralink and wireless phones, central monitoring station and more.