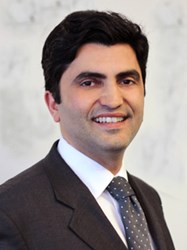 If a patient isn't a candidate for facial nerve decompression, they are most likely a candidate for a different type of procedure.
Beverly Hills, CA (PRWEB) August 19, 2013
In a newly published article to FacialParalysisInstitute.com titled "Facial Nerve Decompression," world-renowned Bell's palsy doctor and facial nerve expert Babak Azizzadeh, MD, FACS, sheds light on a highly advanced treatment that can offer relief and improvement for individuals suffering from facial nerve disorders. The treatment, called facial nerve decompression is designed to relieve unnecessary pressure placed on the facial nerve that further leads to complications and inflammation.
"Facial nerve decompression is a viable option for individuals who are suffering from Bell's palsy or certain types of facial paralysis. Because the nerve can be so inflamed and cramped inside the bony canal, decompression by an expert facial paralysis surgeon releases pressure from the nerve which can promote a progressive improvement and healing," said top Bell's palsy doctor Babak Azizzadeh, MD, FACS.
As Dr. Azizzadeh describes in the new article, those who may be a candidate to undergo facial nerve decompression are those whom are experiencing facial paralysis due to trauma or injury, or individuals Bell's palsy. Though the treatment is often performed after a patient has gone through less invasive methods of treatment previously, the procedure can offer drastic results.
"Patients usually see the best results if they're able to have the procedure performed within thirty days of complete facial paralysis onset, as this ensures that the facial nerve hasn't been irritated for too long to have permanent or negative effects," said Dr. Azizzadeh, expert Bell's palsy doctor in Los Angeles.
At the Facial Paralysis Institute in Los Angeles, Dr. Azizzadeh understands the emotional and social toll that facial palsy can bring, which is why he's able to offer patients a plethora of treatments that can be uniquely tailored to meet their specific needs.
"If a patient isn't a candidate for facial nerve decompression, they are most likely a candidate for a different type of procedure. Treatments for facial paralysis are continuing to advance, and patients should not get discouraged. Facial paralysis is treatable and beatable with other surgeries including the cross-facial nerve graft and masseteric facial nerve transfer," said Dr. Azizzadeh.
Since his extensive and prestigious training at Harvard Medical School, Dr. Azizzadeh has helped hundreds of people with varying degrees of facial paralysis. Dr. Azizzadeh is the director of the Facial Paralysis Institute and one of the leading figures in the field of Facial Nerve Paralysis. Dr. Azizzadeh has been recognized for his work on several occasions, and has appeared on the Oprah Winfrey Show and countless other media outlets. Dr. Azizzadeh is trained in Facial Plastic & Reconstructive Surgery, as well as Head & Neck Surgery, giving him a distinctive insight into facial nerve function and facial aesthetics. Dr. Azizzadeh also has extensive training in microsurgical facial reconstruction, which is often required for the treatment of people who are born with facial paralysis.
For more information about treatments for Bell's palsy and facial paralysis, please contact Dr. Azizzadeh by calling (310) 657-2203 or visit: http://www.facialparalysisinstitute.com.