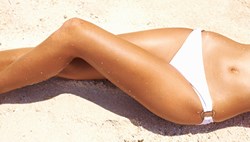 The was by far the easiest way to shave off 5 pounds!
(PRWEB) August 22, 2013
Perfecting the art of self tanner is crucial to pulling off the most natural look. It is imperative to take preparation seriously in order to achieve absolute flawlessness. Masterpieces aren't painted on dirty canvases, and neither is self-tanning lotion. Before even thinking about applying any self-tanner, cleaning and exfoliating the surface is a must. Exfoliating removes dead skin and dirt that will get in the way of even application. Some self-tanner brands even offer an exfoliator of their own in towel form. This step enhances the slim down effect by eliminating the chance of uneven streaks and bumps that can appear as imperfections in the skin, or even the C word (cellulite).
After exfoliating, it is important to move right onto the application. There is no time to waste. Apply tanner to extremities, abdomen and chest in circular motions. Rub them deeply into skin and be careful not to miss any spots. Another person may be required to complete the back.
Next, add a little shimmer. Sweep a shimmery, powder bronzer straight down the center of arms from shoulder to wrist. The subtly darker, shiny line creates an elongating, slimming illusion. Then do the same on both the front and back side of legs. From thigh to toes, and then thigh to heels, this vertical light will make gams look long & lean.
In this day & age, gloomy skies don't have to mean pasty thighs. To make a faux tan last even longer, be sure to moisturize daily. Devise & stick to a "cover story" for the inevitable co-worker question: "How does one manage to stay so tan and thin?"