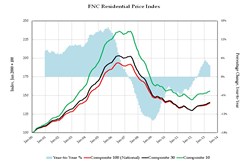 The index is reaching a two-year high after rising 16 straight months.
Oxford, MS (PRWEB) August 15, 2013
The latest FNC Residential Price Index™ (RPI) shows that the U.S. housing recovery continues to take hold with home prices nationwide rising a modest 0.6% in June. The index is reaching a two-year high after rising 16 straight months. The 16-month streak has lifted home prices by 7.6% since February 2012─the month in which the housing market bottomed out.
According to the FNC RPI, the pace of the price improvement in the ongoing recovery is much more modest than indicated by a number of other closely watched home price indices, with some of the largest differences seen in the San Francisco, Los Angeles, Atlanta, Miami, Chicago, Minneapolis, Seattle, and Washington D.C. markets. The difference may be due to these other indices being based on pairs of repeat sales, many of which are distressed properties in a prior sale. Other factors that may impact this divergence include the growing influence of new home sales, which are not included in repeat sales indices, and a disproportionate number of low value home sales relative to the housing stock. As an indicator of the underling home price trend, the FNC RPI excluded distressed sales and includes new home sales.
Housing market fundamentals continue to improve amid a moderately improving economy. Foreclosure sales have dropped to the 2007 levels before the collapse of the housing market—a strong indicator of strengthening conditions on the supply side. In June, foreclosure sales accounted for 13.5% of total home sales, down from 14.3% in May and 18.6% a year ago. The latest July median sales-to-list price ratio was 96.9, or a 3.1% listing price markdown among closed sales. In the California markets in particular, median sales price was 1.3% above the listing price, led by San Francisco at more than 4.7%.
Based on recorded sales of non-distressed properties (existing and new homes) in the 100 largest metropolitan areas, the FNC 100-MSA composite index shows that June home prices increased from the previous month at a seasonally unadjusted rate of 0.6%. On a year-over-year basis, home prices were up a modest 3.7% from a year ago. FNC's RPI is the mortgage industry's first hedonic price index built on a comprehensive database that blends public records of residential sales prices with real-time appraisals of property and neighborhood attributes. As a gauge of underlying home values, the RPI excludes sales of foreclosed homes, which are frequently sold with large price discounts, reflecting poor property conditions.
Nearly all the major housing markets tracked by the FNC 30-MSA composite index show rising prices in June, led by Baltimore, Phoenix, and Las Vegas at nearly 2.0% each. In Phoenix, home prices continue to rise rapidly, up another 2.0% and for 17 consecutive months, closely followed by Las Vegas where monthly price gain averaged 1.4% in the last 12 months. Foreclosure sales in Phoenix comprise only 8.7% of total home sales and are reverting to pre-crisis levels. Home prices were relatively flat in St. Louis, New York, Cleveland, Washington, D.C., and Columbus. Despite robust signs of a market turnaround, foreclosure sales continue to weigh on home prices in many Midwest and Florida cities, including Detroit, Cleveland, Chicago, Cincinnati, St. Louis, Tampa, Orlando, and Miami.
Four markets are enjoying a double-digit year-over-year price appreciation: Phoenix, Las Vegas, Sacramento, and San Francisco. Other rapid-growth markets include Riverside, San Diego, Denver, and Los Angeles. In contrast, the 12-month trends are relatively flat in Chicago, Houston, Columbus, and New York. A measure of the price recovery from the market bottom in February 2012 shows extended gains nationwide. At the top of the list are Phoenix, Las Vegas, Sacramento, Denver, San Francisco, Detroit, and Los Angeles, with prices rising between 12.6% and 40.8%. Despite showing a small and lagging 16-month performance at 1.2%, conditions in Chicago are slowly improving.