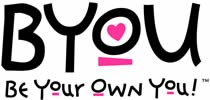 Join the movement to empower girls and women worldwide.
San Diego, CA (PRWEB) August 15, 2013
BYOU LLC announced today that it is holding a live presentation on Facebook to share its vision to empower women and girls worldwide.
BYOU believes that women of all ages deserve to live a life with healthy self-esteem and a positive self-image in order to live happier lives. Unfortunately, up to 90 percent of young girls today suffer from low self-esteem.
BYOU has successfully created an online community featuring an apparel line, a magazine, and an active blog where girls and women can get answers to their questions or voice their thoughts. In order to meet the needs of this growing market, the company is in the process of further expanding their team and looking for women who want to join their organization.
BYOU management believes everyone has had first-hand experience or know women that have experienced domestic abuse, suffered from low self-image or are abusing themselves in some way. This growing trend of extreme pressure is adversely affecting our next generation of young ladies.
BYOU management is seeking help and actively looking for coaches, trainers, executive level management, affiliates, joint venture partners and social media marketers just to name a few.
Please join us on Thursday, Aug 15th at 1:00 p.m. for an Online Presentation as CEO Greg leads a live presentation that will be streamed online at this link: http://www.22s.com/writer/byoulive/.
About BYOU - Be Your Own You:
Be Your Own You is a lifestyle brand that empowers women and children through positive messaging, apparel and accessories, educational programs and an editorial magazine. BYOU was formed in partnership with Children's Edutainment Network and teen celebrity Cymphonique Miller.
BYOU's Celebrity Signature Series allows celebrities to create signature designs that reflect their own personalities and highlight the issues of self-image and women's empowerment, key concepts of the BYOU brand. This new strategy is a simple three-step process. BYOU partners with celebrities who create and design a "Signature Series" line of designs incorporating the BYOU brand. The celebrity then chooses a charity to benefit from sales of the designs which will be produced on apparel and various other products. BYOU will market the new designs on http://www.BeYourOwnYou.org for a two-week period and $7.00 from every item sold will go directly to the charity the celebrity chooses.
For more information, and to check out the online store visit, http://www.BeYourOwnYou.com.