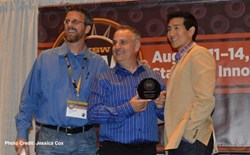 Las Vegas, Nevada (PRWEB) August 15, 2013
Tipbit Inc. took home first prize in the Mobile and Tablet Technologies category at the first-ever V2Venture competition at the inaugural SXSW V2V conference held at The Cosmopolitan of Las Vegas. The SXSW V2Venture competition honored five of the most exciting new innovations in five categories including Education Technologies; Health Technologies; Mobile and Tablet Technologies; Culture and Entertainment Technologies, and Innovative World Technologies.
Tim Chang (Mayfield Fund) emceed the competition along with three industry expert judges for each category. Each of the finalists were given two minutes to present, then the next seven minutes were dedicated to the panel providing feedback. The panel of 15 judges included: Thomas Ball (Austin Ventures); Wayne Chang (Twitter); Paige Craig (angel investor); Abhas Gupta (Mohr Davidow Ventures); Christine Herron (Intel Capital); Missy Krasner (Morgenthaler Ventures); Jeff Livingston (McGraw-Hill Education); Larry Marcus (Walden Ventures Capital); Scott Nolan (Founders Fund); Shauntel Poulson (NewSchools Venture Fund); Dr. Darline P. Robles (Rossier School of Education); David S. Rose (Gust); Julie Sandler (Madrona Venture Group); Andreas Stavropoulos (Draper Fisher Jurvetson) and Andy White (VegasTechFund).
"We are excited and honored to be recognized by SXSW V2V," said Gordon Mangione, Tipbit founder and CEO. "Email is the lifeblood of business, and today, more email is opened on mobile devices than on desktops. The market is hungry for innovations that will make us more productive with mobile email. With our unique approach to context and gravitational search, Tipbit is the email app for the next decade."
Tipbit was selected as the winner in the V2Venture competition from amongst alongside five other companies which presented in the Mobile and Tablet Technologies category. Started by the team that brought Microsoft Exchange Server into the Internet era, Tipbit created the email application for the next decade. Unlike limited inboxes that induce delay in responding until you're at your desktop, Tipbit gives you what you need to answer email now: People, documents, Twitter, LinkedIn, Dropbox, previous meetings and messages are all in front of you in the application you use every day. We call this gravitational search, a new category of technology that intelligently pushes the content to you rather than making you search.
"The winners of the first-ever SXSW V2Venture competition should be proud -- they've now set the bar high for future participants," said SXSW V2Venture Event Producer, Chris Valentine. "We congratulate the winners and look forward to seeing what's next for them."
For a complete list of V2Venture finalists and winners, visit http://sxswv2v.com/venture/.
About Tipbit:
Tipbit revolutionizes email with its smart mobile inbox. Tipbit boosts on-the-go productivity by employing an innovative gravitational search technology to create rich, instant connections between email messages and related people, meetings and data. Tipbit empowers users with the context and content they need to respond effectively to mobile email. With offices in Seattle and San Francisco, Tipbit is backed by Andreessen Horowitz and Ignition Partners.
About SXSW V2V:
SXSW V2V is the newest addition to the SXSW family of events, joining SXSW Music, SXSW Interactive, SXSW Film, SXSWedu and SXSW Eco. SXSW V2V is an extension and re-imagining of the legendary SXSW experience with an emphasis on the creative spark that drives entrepreneurial innovation. This four day event brings the startup and venture capital communities together with the creative industries that have helped to make SXSW so special. V2V serves innovators and entrepreneurs from across all the industries at the core of the SXSW Family of events - technology, music, film, fashion, health, education, sustainability, and more - as they learn the skills, make the connections, and find the inspiration to take their ideas and talents to the next level.
Join us for this excitement-packed, four-day event from Sunday, August 11, 2013 through Wednesday, August 14, 2013 at The Cosmopolitan of Las Vegas in Las Vegas, Nevada.