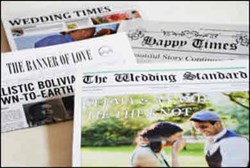 Makemynewspaper.com caters to such a large "Personal Newspaper" clientele such as weddings, reunions, schools, churches, small business and so on...
Tucson, Arizona (PRWEB) August 17, 2013
Makemynewspaper.com, Inc. announced today that a breakthrough advancement in newspaper technology is now available for public use exclusively through their website. The company's new newsprint product is primarily targeted for print runs from one to five hundred newspapers, catering to the personal newspaper market, being offered at prices previously not possible with conventionally web presses.
"For the past two-hundred years, the newspaper has virtually never changed," says CEO Patrick Carson. "Yes, the ink was made biodegradable, the paper recycled, the presses more efficient. But the basic look and feel of a newspaper has stayed the same, decade after decade . . . until now."
"Impact Newsprint," as Makemynewspaper.com has branded their new product, is unlike any kind of newspaper ever seen. The color on the page literally shines; a vivid, gloss-like luster that allows images to leap off the page in a way that newspapers have never allowed.
"We've worked for years to get this offered to the general public," CEO Patrick Carson explains. "Technology is changing so rapidly we saw the possibilities of this kind of newspaper a long time ago, but affordability kept keeping it implausible. We've finally worked out the minutiae, with some incredible partners, and now 'Impact Newspapers' is not only available to the consumer, but it's also the most affordable newspaper print product ever offered in the short-run newspaper market."
Mr. Carson positions that any printing plant in North America would charge between $400 to a thousand dollars for a simple, quarter-folded, four page newspaper in full color for fifty copies. Makemynewspaper.com's price is $109.00. This price includes the new gloss-like sheen and use of their Cloud Newspaper Designerhas well.
"Impact Newspapers" is currently available in runs from one to five-hundred copies (custom requests are considered), but since Makemynewspaper.com caters to such a large "Personal Newspaper" clientele such as weddings, reunions, schools, churches, small business and so on, Mr. Carson believes "Impact" a win, win. "Impact newspapers not only takes the imagery of newspapers itself to a whole new level for our short-run customers, it now opens the door to so many more usages than ever before. Brochures, catalogs, even newsletters that are printed with expensive gloss paper, can now be printed on "Impact Newsprint" instead with a similar effect (especially using high-bright newsprint), saving consumers an incredible amount of money over other print
methods."
Makemynewspaper.com launched a few years ago with an online platform to allow newspapers to be published by anyone and is one of the few newspaper companies enjoying continual growth. The company offers a free Cloud Newspaper Designer, with templates, and has offered extremely affordable newspaper printing since its inception. Recently, the company launched a new website, an upgraded designer, and, along with "Impact Newspapers," have also lately introduced the world's first creatable, "eNewspaper," a digital newspaper that can be shared on social media, blogs, websites, with email, and virtually any platform available on the internet.