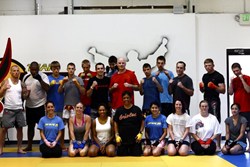 "The Dutch style is already proven to be the style of preference..."

- Julius Park, Head Instructor
Baltimore, MD (PRWEB) August 15, 2013
Having hosted several seminars in the past at Crazy 88 BJJ, Coach Bert returned to host yet another seminar on Wednesday, August 14. This time he emphasized the importance and integration of the Dutch system into other striking sports such as Kickboxing, Muay Thai and Mixed Martial Arts.
The Dutch system of kickboxing focuses on punching and low kicks, using a variety of angles and set-ups to capitalize on an opponent's reaction. The Dutch system puts a great amount of attention on combinations and consistently throwing techniques. The constant attacks will cause the opponent to make some errors or mistakes that the offense can then use to their advantage.
Coach Bert worked intensively on core combinations that are most popular in the Dutch system at the professional level. After beginning the with a series of various warm-ups used in the Netherlands, Coach Bert reviewed key details that makes the Dutch system so successful.
The students worked the basic combination of Jab, Cross, Hook, leg kick. This combination is the primary basis for the whole Dutch system, as well as allowing the attacks to come one after the other. The seminar allowed the students to receive valuable takeaways that will improve each of improve their striking.
Head Instructor, Julius Park stated, "The seminar comes at a great time due to the fact that Glory International Kickboxing Association recently teamed up with the World Kickboxing Association (USA) in a massive effort to bring popularity of kickboxing to North America. The Dutch style is already proven to be the style of preference, with Tyrone Spong, dominating every one of his opponents in the most recent Glory tournament on his way to the title."
For more information or updates about Crazy 88 - Elkridge visit http://www.BaltimoreMixedMartialArts.com or call (443) 283-1450. Or for Crazy 88 - Owings Mills visit http://www.Baltimore-MMA.com or call (410) 999-1064.