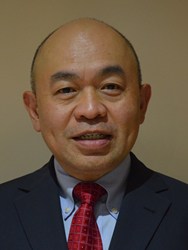 Quon has tried and proven unique and effective methods for delivering value on design projects to public transit agencies.
NEW YORK (PRWEB) August 15, 2013
HNTB Corporation, one of the nation's leading infrastructure solutions and program delivery firms, has hired Quon Chin, AIA, as principal transit architect and project director in its New York City office.
In his new role, Chin will be collaborating with the firm's rail/transit leadership to pursue and deliver complex multidiscipline station and facility projects in the eastern United States.
Chin, a respected transit architect, has more than 30-years experience providing design and program management services to various transit agency clients in the northeast, including MTA New York City Transit, New Jersey Transit, Long Island Rail Road, Southeastern Pennsylvania Transportation Authority, Massachusetts Bay Transportation Authority, Amtrak and the New York City Department of Transportation.
Most recently, Chin served as design oversight manager on the Central Subway Project, which extends the Muni Metro T Third Line for the San Francisco Municipal Transportation Agency. Prior to that, he was package manager for the 86th Street Station as part of MTA New York City Transit's Second Avenue Subway project.
"Quon has tried and proven unique and effective methods for delivering value on design projects to public transit agencies," said Tom Scerbo, AIA, vice president and architecture office leader, New York City. "We're proud he's joined our team in order to offer his expertise and lessons learned to our public transit clients in the northeast and across the nation."
Chin earned his Bachelor of Architecture degree from the Pratt Institute and completed the Pratt Architecture & Urban Design in Rome program in 1981. He is a registered architect in New York, New Jersey, Pennsylvania, Massachusetts, Connecticut and Virginia and an active member of the American Institute of Architects.
Since January, HNTB has added more than 50 professionals in New York and expects that hiring trend to continue this year in response to extensive and immediate transportation and funding needs in the region. With nearly a century of service in the New York area, HNTB continues to grow in size and service offerings to clients from nine tri-state office locations, currently employing approximately 320 full-time professionals. The New York City office previously was named ENR New York's Design Firm of the Year and a "Best Companies to Work For" by Crain's New York Business.
About HNTB
HNTB Corporation is an employee-owned infrastructure solutions firm serving public and private owners and construction contractors. With nearly a century of service, HNTB understands the life cycle of infrastructure and addresses clients' most complex technical, financial and operational challenges. Professionals nationwide deliver a full range of infrastructure-related services, including award-winning planning, design, program delivery and construction management. For more information, visit http://www.hntb.com/.