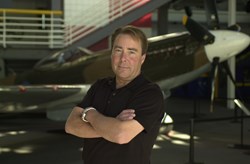 So where was the CRM on Asiana's approach into SFO? Non-existent
Los Angeles, CA (PRWEB) August 23, 2013
As new details continue to emerge about the recent Asiana Flight 214 crash at San Francisco International Airport, Los Angeles Aviation Attorney Patrick Bailey has been paying close attention. Bailey is an experienced pilot whose legal practice has a sharp focus on aviation accidents and aviation business litigation. As a result, his insights are particularly valuable in high-profile cases such as commercial airline crashes.
Though the final report from the National Transportation Safety Board is not yet completed, the facts remain that Asiana Flight 214 crashed and led to three fatalities and dozens of injuries. While the cause of the crash is not yet determined, Bailey sees this as an opportunity to reflect on the importance of Crew Resource Management (CRM) for all commercial flights.
In a recent interview, Bailey offered a brief overview of CRM: "The concept of CRM started out two decades ago as 'Cockpit Resource Management.' But as studies of Human Factors and accident analysis advanced, the Human Factors experts expanded 'Cockpit Resource Management' to 'Crew Resource Management' which, of course, includes not just the cockpit crew but the cabin crew as well." During that same time period, other terminology was coined as well. "A decade ago airlines and charter operators referred to cockpit crews as consisting of a 'PF' (Pilot Flying) and a 'PNF' (Pilot Not Flying). Today, that too has fallen by the wayside. Today the appropriate terminology is 'PF' (Pilot Flying) and 'PM' (Pilot Monitoring). The PF/PM combination is critical to the safe application of CRM."
If a "plane is nearing a runway and the crew has selected the appropriate approach speed, known as 'Vref,' and anyone in the cockpit notices that the plane is not travelling at that speed, effective CRM would mean that attention would be immediately drawn to this error. But if no one speaks up or waits to comments on such an error, it may be too late," Bailey said.
According to an article by Allie Bidwell in US News & World Report published on July 8, a National Transportation Safety Board spokesperson said that, for landing this type of plane, "the speed for the Boeing 777 is 137 knots (about 158 mph), but the plane was traveling 'significantly' below that speed during its approach." This, said the NTSB spokesperson, is a topic that requires significant analysis to determine why the plane was so far below its ideal landing speed.
Bailey continues: "Another issue that can create problems for a large jet approaching a runway is glide path. This is the altitude the plane is at while approaching a runway. If it is too low, the plane can run into significant danger. This is also something that a Pilot Monitoring or other crew members should call attention to. If the pilot does not seem to notice the problem, effective CRM requires that other crew members indicate the error in a timely fashion. If the crew does not allow enough time to make a correction, tragedy can occur."
Multiple news sources, including a story published July 8 in the Los Angeles Times by the Times' staff, report that the Asiana crew tried to abort the landing seconds before impact. In some instances, whether in the airline industry or in other professions, subordinates may feel uncomfortable indicating that a superior is making an error. Such instances, Bailey says, "may be examples of 'authoritarian culture' in which respect for a commanding pilot keeps other crew members from speaking up when there is an obvious problem. This may not have been the case in the Asiana crash but it is certainly always a concern in these types of cases. The NTSB, I am sure, will be very curious to know if such issues contributed to the tragedy."
As new information has come to light, pilot error has been the primary focus of the media. Soon after the crash, PBS conducted interviews with multiple experts including former NTSB managing director Peter Goelz who asserted in a July 8 interview with Judy Woodruff that, in his estimation, there is no explanation for the crash besides pilot error ("Will Pilot Experience, Crew Fatigue Factor in Explanation of SFO Crash?").
If Bailey, Goelz and other analysts are correct, the final cause of the crash will not be identified as mechanical error. But even after a cause is determined, questions will still remain: what can be done in the future to make sure such errors never occur again?