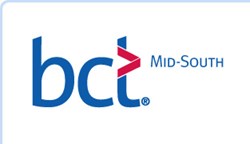 "BCT Mid-South had grown considerably over the past ten years," said Peter Posk, BCT's President.
Fort Lauderdale, FL (PRWEB) August 17, 2013
BCT Mid-South, which has operations in Madison Mississippi, Memphis and Nashville Tennessee, is excited to announce the addition of Michael McCoy to its team. Michael will serve as the company's Regional Business Account Representative.
"BCT Mid-South had grown considerably over the past ten years," said Peter Posk, BCT's President. "Chris McCoy, owner of BCT Mid-South, began with a production center in Mississippi and over the years acquired both the Memphis operation and Nashville operations," Posk added.
Michael McCoy graduated in 2012 from Mississippi State University and was commissioned as a 2nd Lieutenant in the US Army National Guard. He has spent the last year completing his military training as well as working with Nashville's Customer Service Manager, David Kauffman.
Chris McCoy noted, "David has set the bar for customer service in our Nashville location and we wanted Michael to work alongside him to witness firsthand the positive impact excellent customer service has on our business."
McCoy added, "Michael will be our evangelist, letting our customers know what we can do for them. We have evolved from a thermography business card supplier, to a full service commercial print provider. Customers especially depend on us for fast turn and rush jobs. We offer spot through full color, flat and raised print, offset & digital capabilities, a full suite of web-to-print solutions and many bindery and finishing options. We still find many of our customers are surprised when the see the breadth of what we can do for them."
You can contact Michael via email at Michael(at)yourbct(dot)com. You can contact the BCT Mid-South office at 800-338-2106.
To learn more about BCT and register for our weekly iPAD mini giveaway, visit http://www.bctonline.net/.
About BCT:
BCT is the largest wholesale stationery printer in North America. Founded in 1975, BCT's 45 locations throughout the United States and Canada are your wholesale only source for high quality printing of Full Color & Spot Business Cards, Stationery, Postcards, Catalog Sheets, Thermography & Flat Business Cards, Stationery, Custom Stamps, Custom Labels, Booklets and Finishing Services. BCT is the developer and owner of orderprinting.com® and printdesigner.comTM, two software applications for the commercial and retail reseller segments.