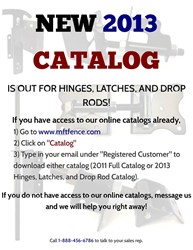 "It's not enough to build a great product, you have to make it available to customers in a way that they can fully grasp its value to them." Mike Jacob
East Troy, WI (PRWEB) August 15, 2013
Modern Fence Technologies has launched a new online catalog, featuring all American made hardware for professional fence installers. As its name states, this first phase of MFT's new catalog includes all of the innovative and value engineered hardware that they are known for in the industry, including several new features and items.
"We're working toward being even more responsive to our customer's needs," said Mike Jacob, sales manager for MFT. "The addition of information in this catalog helps installers select the exact hinge they need for a particular application allows them to make confident decisions when selecting hardware for their customers.", he added.
To accomplish this, the team at Modern Fence Technologies has produced a first-of-its-kind "Proportional Load Chart", that takes into account the "moment", or rotational force exerted by gates of various shapes on a hinge system. Using the dimensions of the gate, and its weight, an installer can see at a glance whether a given MFT hinge will be the correct fit for a given system.
The catalog includes clear photographs of each item, along with line drawings and descriptions for the proper use of each part. Users will also find information on case quantities, colors available, and even shipping weights, to make choosing hardware easier.
In coming months, Modern Fence Technologies will be launching its all new Vinyl Accessories Catalog, to be followed by their Tool Catalog, which will feature products made in America, of domestically sourced materials. In addition, developers are currently working on an online store for direct purchases. The common theme through all of these catalogs is the company's commitment to the American businessman and the American consumer. Mr. Jacob ended, "It may sound corny, but our goal every day is to make the professional fence industry better by bringing American made quality and customer service together. It's not enough to build a great product, you have to make it available to customers in a way that they can fully grasp its value to them."
To download the new 2013 Hinges, Latches, and Drop Rods Catalog, register on the Modern Fence Technologies website, or call (888) 456-6786, (East Coast and Midwest), or (888) 613-8146.
(West Coast) and ask a customer service representative to assist you. Once registered, customers can access any of MFT's catalogs and catalog updates.