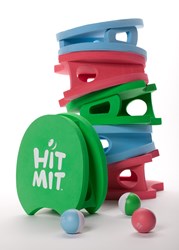 North Bergen, NJ (PRWEB) August 16, 2013
The Hit Mit, a paddle game that can be played by anyone, anywhere, anytime, is excited to announce its month-long, in-store demos at FAO Schwarz® Fifth Avenue in New York City. From Aug. 16 through Sept. 15, visitors to FAO Schwarz can try their hands at the game, Friday through Sunday from 12 noon to 5 p.m.
"We're thrilled to have Hit Mit displayed and demoed to the thousands of visitors coming to FAO Schwarz," said Fredi Brodmann, (inventor & founder, Brodmann Blades Corporation). "It's a great opportunity for people to try the game and experience how easy and fun it is. I haven't yet met anyone who's played that didn't get hooked on it! And, to celebrate our launch at FAO Schwarz, we're donating a portion of proceeds from each Hit Mit sold during the demo month to Shape Up US, a non-profit organization dedicated to empowering children and families to lead healthier, happier and more meaningful lives through wellness education programs and ongoing state-by-state live events."
Whether players are looking for a fun summer game or want to keep fit, Hit Mit is the perfect solution for kids and adults of all ages. Based on the revolutionary, patented Brodmann Blades table tennis paddles, Hit Mit's glove-wearing paddle takes table tennis paddle ball to the next level – giving players ultimate ball control and ball feel – where their hand essentially becomes the paddle.
With plenty of road trips left this summer, Hit Mit is the perfect game to travel with because families can play it anytime and anywhere – on the beach, in the pool, at the park, or indoors. It's an easy game to learn, so kids and adults of all ages can play and stay fit at the same time. And, with school just around the corner, Hit Mit is the perfect game to play in the schoolyard.
Hit Mit is available at FAO Schwarz Fifth Avenue for $24.99.
About The Hit Mit:
Launched in Summer 2012 by New Jersey-based Brodmann Blades Corporation, the Hit Mit paddle has an intuitive design and is made of lightweight EVA foam. Its one-size-fits-all mitt is worn like a glove over either hand allowing for quick learning and maximum ball control. Each Hit Mit comes with two paddles and three soft foam balls in a mesh bag and is available in six colors (green, blue, red, pink, orange, and purple). Learn more at http://www.thehitmit.com. Connect with us online at Facebook, Twitter and Pinterest. For Hit Mit images, visit Flickr.
Media Contact:
Candace Vadnais
Fastlane Communications
973.229.9426
cvadnais(at)fast-lane(dot)net