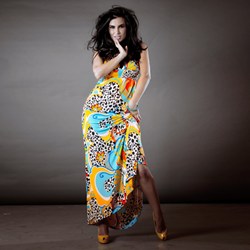 What's best about my fashions is that they can be worn before, during and after pregnancy.
Dubai (PRWEB) August 16, 2013
Dubai designer and pioneer, Jenny Rose, is proud to debut new designer dresses for women who are pregnant or not.
"What's best about these dresses, and all of my fashions, is that they can be worn before, during and after pregnancy," Jenny Rose explains. "I've even been known to wear them around town!"
Her latest designs focus on fun fabrics and comfortable styles. The dresses are bright, energetic and colorful, and are ready for a night on the town, a trip to the grocery store or a big board meeting at the office.
With 16 different dresses in different length and colors in the Jenny Rose line, woman can certainly find something that will work for them.
Founded in 1998, Jenny Rose's fashion brand has been a pioneer for maternity wear in Dubai ever since it first launched and it's still considered the premier maternity boutique more than 22 years later.
Founded in 1998, Jenny Rose was the first dedicated maternity and transition wear retailer in Dubai and continues to set the standard for quality and fashionable clothing for women. She hopes to reach even more people outside of Dubai through her website, which also offers "My Cozzie", her designer Arabic swimwear line, and "Bump in a Box", which is a box of four maternity collection pieces.
Jenny Rose has a convenient shop in the Mall of the Emirates, and clothing can also be purchased on her website at http://jennyrose.net. She accepts Visa, MasterCard, Discover, PayPal, and even cash on delivery.