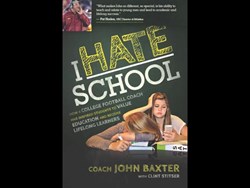 A must read for any parent or educator
Rolling Hills Estates, CA (PRWEB) August 15, 2013
USC Football Coach John Baxter to Release First Book on Education
Celebrated academic reformer and Chicago native connects with students and parents, bringing unique humor and life experiences of more than 30 years as a college football coach.
For nearly 30 years, Coach John Baxter has been an inspirational leader for some of the nation's best college football teams. Despite the impact he's had on the field, his many works off the field have earned him an outstanding reputation on college campuses for dramatically improving academic scores and developing life skills.
His first book, "I Hate School: How a College Football Coach Has Inspired Students to Value Education and Become Lifelong Learners", is an entertaining tale of his life's work creating a solution to the problems of education in America today. Here's some background information on Baxter and his work:

In 1999 Baxter introduced "Academic Gameplan", a program that he developed over time to help young people become more effective students, and all-around people. His unique approach has worked for football players at schools like Iowa State, Arizona, Arizona State, Cal, Oregon, Maryland, Tulane, Fresno State, and most recently USC, where he's served as Associate Head Coach since 2010.
Baxter soon found out that the challenges faced by college football players transcended to all students regardless of age, race, gender, socioeconomic background or extracurricular activities, and thus the desire to offer his solution to all students.
Baxter began his college coaching career at Loras College as an undergraduate student. He went on to earn a Master's degree in Higher Education from Iowa State, while coaching for the Cyclones. It was there he first began to develop "Academic Gameplan" while working with some "at risk" students.
A graduate of Loyola (Ill.) High School, Baxter has worked on college campuses from Maine to Southern California, and at schools in in the ACC, Pac 12, Big 12 and WAC conferences. His most recent success at Fresno State and USC has earned him national acclaim, including feature stories in national publications like Sports Illustrated. Top academic schools like USC, Stanford and Cal implemented the "Academic Gameplan" for student-athletes.
Baxter's unique teaching style has led to record-setting academic accomplishments in the college programs where he's worked from high GPAs to NCAA Academic Progress Rates (APR) scores. His copyrighted "Academic Gameplan" system has proven successful for many high school and college programs across the nation.
The book is part self-help, part teaching tool, and fully entertaining. Baxter has taught more than 1,000 college football players during his storied career, and shares successful experiences from students of every background.
For more information or ordering information on Baxter's book: "I Hate School: How a College Football Coach Has Inspired Students to Value Education and Become Lifelong Learners" click here.
Click here for more information on "Academic Gameplan".
Foreword by Pat Haden
John Baxter is a teacher. The fact that he is one of the country's best and most innovative football coaches is incidental to the fact that he is a teacher first, last, and in between.
As the athletic director at the University of Southern California, I have had the pleasure of working with John the past three years. He is the most remarkable special teams football coach I have met in over 40 years involved in the game of football. What makes John so different, so special, is his ability to teach and relate to young men and help them with their academic and life success.
Wherever John has coached, his Academic Gameplan has helped launch hundreds of young football players' successful academic careers. I have seen it here at USC. I have seen John's passion firsthand, sometimes attending his Academic Gameplan meetings (which often start at 6:30 a.m.!) at which his students, who happen to be some pretty darn good football players, learn some of life's lessons particularly well. His plan also prepares them for the rigors of a first-rate college education.
His success has been phenomenal, both at Fresno State and now at USC. John is one very special person and teacher. We are lucky to have him at USC and I believe that anyone who reads his book will understand why Coach Baxter and his students have been so successful in life and in athletics.
—Pat Haden, Director of Athletics, University of Southern California