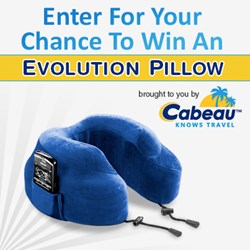 West Hills, CA (PRWEB) August 21, 2013
Today, Cabeau announced three more chances to win the amazing Evolution Pillow™ in the Cabeau "Win an Evolution Pillow™" Sweepstakes. Just go to Cabeau's Facebook page, click the "Like" button and you're entered in the Sweepstakes. It's that easy!
We draw a winner every week until September 8th so enter now.
Providing unparalleled head and neck support, Cabeau's Evolution Pillow™ puts an end to stiff necks, bobbing heads and cramped, uncomfortable sleeping positions, allowing you to reach your destination rested and refreshed. Made of responsive memory foam, the Evolution Pillow™ has a media pouch, adjustable front toggles and fits in its own travel bag.
To see what People magazine, The Travel Insider and scores of bloggers are raving about, visit our Cabeau website to view our entire line of amazing comfort travel products or to place an order.