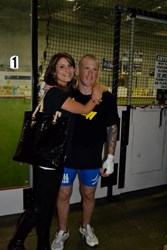 I'm excited to teach classes which will focus on high-level techniques in a safe, friendly atmosphere.

- Coach Jon Delbrugge
Baltimore, MD (PRWEB) August 17, 2013
Originally set to open in August, the Crazy 88 - Owings Mills location will finally be opening their doors a month later than anticipated.
Head instructor Julius Park said regarding the news, "Better late than never. I'm excited to get the ball rolling with the new program."
Crazy 88 Owings Mills will be a sister school to Crazy 88, whose headquarters are located in Elkridge and originally opened its doors back in 2005.
Eight years since opening, Crazy 88 has grown to produce competitors at the highest levels of competition in Brazilian Jiu-Jitsu, Muay Thai and Mixed Martial Arts. All of this has been achieved while continuing to establish a place where adults and children of all ages can learn martial arts.
Crazy 88 Owings Mills will offer adult classes in both Muay Thai and Brazilian Jiu-Jitsu for all skill levels. The class format will be designed to incorporate basics for the beginners as well as more advanced techniques for those aspiring to possibly compete.
The school will be run by Professional Mixed Martial Artist, Jon Delbrugge. In regards to the new location Jon said, "I'm excited to teach classes which will focus on high-level techniques in a safe, friendly atmosphere. Our professional staff, clean facility and great class environment will guarantee that you will have fun, get a great workout and learn solid technique!"
For more information on Crazy 88 - Elkridge visit http://www.BaltimoreMixedMartialArts.com or call (443) 283-1450. To learn more about Crazy 88 - Owings Mills visit http://www.Baltimore-MMA.com or call (410) 999-1064.