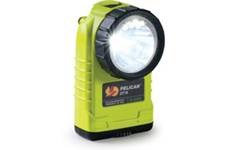 "Every time I visit a fire station, the members are excited about the new flashlights and the way they make our work safer and easier." - LAFD Fire Chief Brian Cummings
Los Angeles, CA (PRWEB) August 16, 2013
The Los Angeles Fire Department Foundation awarded 3,000 state-of-the-art Pelican flashlights to all members of the Los Angeles Fire Department. Pelican worked with members of the department to design a light that will meet the varied needs of firefighters and paramedics whose calls may include fires, traffic accidents, search and rescue and inspections.
Flashlights are a basic tool for the department, which had not purchased new ones in nine years. The new lights feature high beam, low beam and strobe, rechargeable batteries, and LED lights. Build in durable cases, they should survive years of hard work in difficult environments.
Fire Chief Brian Cummings stated, "Every time I visit a fire station, the members are excited about the new flashlights and the way they make our work safer and easier."
Fire Foundation President Karen Wagener said, "The LAFD takes very good care of the people of Los Angeles. It is rewarding to take care of them with essential equipment not included in the city budget."
Pelican, based in Torrance, California, makes professional flashlights that are technically advanced and nearly indestructible. Their customers include fire department, police departments and the military.
The Los Angeles Fire Department Foundation is the major source of private support for the LAFD. Their mission is to create partnerships to provide resources, programs and equipment that assist firefighters and paramedics in protecting life, property and the environment by enhancing their ability to maintain their tradition of service at the highest level.