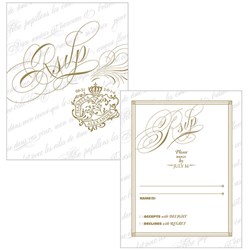 With all of Weddingstar's new and classic designs displayed in a single spot, couples won't find picking RSVP's any easier!
(PRWEB) August 16, 2013
Weddingstar Inc. has earned their reputation for 'Putting the Wow in Weddings' with their career in the wedding industry spanning over 30 years. With their expertise firmly established, Weddingstar continues to broaden their horizons with ever-expanding lines of wedding decorations, accessories and stationery. Constantly producing imaginative designs and inspirations for the most discerning of couples, Weddingstar is changing the market on what a wedding stationer should be. With today's modern weddings being highly focused on customization and distinct flair, Weddingstar has become an imaginative creator of quality personalized stationery for every budget. And, their new RSVP releases for 2013 are of no exception. Carrying multiple designs, color choices and customizations, the happy couple and guests alike are sure to be spellbound with their Weddingstar RSVP!
Introducing a newly revamped website in tandem with their new product releases, Weddingstar has made their stationery designs even simpler to browse. With a single click of a button, brides and grooms alike can easily see a myriad of options for their wedding day. With all of Weddingstar's new and classic designs displayed in a single spot, couples won't find picking RSVP's any easer! What's more, many of the new RSVP offerings also carry Weddingstar's unique customizations such as color and text personalization. With the use of Weddingstar's simple Design Studio, any couple can preview what their dream wedding RSVP's will look like once they've been customized with their desired colors and wording.
Not only does the Design Studio make the task of finding the perfect RSVP even easier, but with most of Weddingstar's RSVP's as a part of a larger stationery collection, couples can carry their custom RSVP design throughout the rest of their stationery elements. This makes it even simpler to continue a couples chosen theme or color scheme throughout their big day, as their stationery can be customized with all their special details in mind. Not only that, but with their plethora of unique stationery options, Weddingstar also serves to inspire their couples beyond the realm of stationery. With many of their offerings showing a "lifestyle" shot of the RSVP's and other stationery collections in use, brides and grooms can get ideas for their guest favors and décor as they shop their favorite collections for their perfect RSVP.
With brand new RSVP's offered alongside Weddingstar's newest stationery collections, couples need to wander no further to find stationery inspirations, and the best picks to theme their wedding. A part of Weddingstar's new stationery collection, Parisian Love Letter, this collections RSVP features the swirling lyrics of a French love poem to enchant the couple and guests alike. For a classic yet modern wedding, Weddingstar offers their Aqueous collection RSVP, with a delicate watercolor design available in 5 different colors. Finally, the Key Monogram RSVP has the decorum of days gone by with a swirling antique key as the focal point. And, that's just the start. With over 60 designs to choose from and customization available on all, couples can find their dream RSVP's with ease as they become inspired by shopping with Weddingstar!
Weddingstar Inc. is one of the world's leading designers, manufactures and retailers of wedding decorations and accessories. Dedicated to providing quality service to brides around the globe, Weddingstar ships to over 100 countries worldwide with distribution points in Europe, North America, Argentina, Australia and Russia. Featuring an ever-expanding selection of bridal accessories with over 3,000 different product offerings, Weddingstar is a one stop destination for every wedding need. With 30 years of experience in the wedding industry and having received numerous business awards, Weddingstar has earned a reputation as the source for 'Putting the Wow into Weddings.' For more information please visit http://www.weddingstar.com.