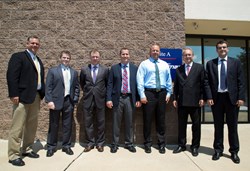 In a global marketplace, every business needs a strong web presence to compete.
Mount Laurel, NJ (PRWEB) August 16, 2013
Recently, Zoran Jolevski, the Ambassador of Macedonia, met with WebiMax to discuss opportunities for business relationships with Macedonia. Since 1996, Macedonia has witnessed steady, though slow, economic growth. As the country is evolving, they have a desire to further their technical knowledge and fully harness the power that the Internet provides. With wireless Internet throughout the country, Macedonia is certainly on the right path. According to internetworldstats.com's 2010 sample, there are 1,057,400 Internet users, or 51% of the population, compared to the United States with 239,893,600 Internet users as of June 2010, which calculates to 77.3% of the population.
Webimax's Kenneth Wisnefski, Founder/CEO; Kevin O'Brien, COO and Principal; Mike Brescia, VP of Operations; and Mike Gurzo, CFO, all took part in the discussion with the Ambassador to discuss such opportunities and how WebiMax can help companies based in Macedonia expand their product offerings to the United States.
"The Internet has become an essential marketing and advertising tool for businesses," said Ken Wisnefski. "We are pleased to participate in opportunities to aid in expanding technical knowledge for companies who are based in Macedonia and around the world. In a global marketplace, every business needs a strong web presence to compete."
After suffering economic difficulties after independence, the Macedonian people pushed to set their country apart as a technical nation. Wisnefski learned that with established relationships with U.S. universities and more businesses utilizing the Internet, Macedonia is on the right path to expanding its technical knowledge.
Increasing technical knowledge and utilizing proven Internet marketing practices can help expand business opportunities and product offerings to the United States and the entire globe – therefore aiding in improving the country's economy and overall business activity. The Ambassador's visit is one of the many ways WebiMax is looking to expand their global outreach. As an Inc. 500 recipient for the second straight year, the company left the meeting excited to continue to grow alongside Macedonian businesses.
About WebiMax:
Led by serial web entrepreneur Kenneth Wisnefski, WebiMax has become the leader in online marketing services. The company focuses on: Search Engine Optimization, Search Engine Marketing, Paid Search, Social Media, Website Design and Development, Reputation Management, and more. WebiMax was named to the 2012 Inc. 500 (No. 37 overall) and was also selected as one of America's Most Promising Companies (2011) by Forbes Magazine (No. 30 overall). The company employs over 125 personnel in 12 offices including 8 U.S. based, and 4 International. Visit http://www.webimax.com/ for more information.