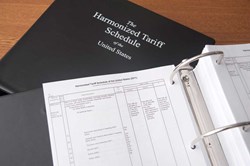 The ISA PC program presents opportunities for everyone. Industry will have an opportunity to be evaluated by qualified, third parties (non-government auditors)
Saint Albans, VT (PRWEB) August 16, 2013
The largest, privately held Customs broker in the US, A.N. Deringer, Inc. has been selected to participate in a US Customs and Border Protection (CBP) pilot program. Deringer was one of only nine licensed Customs brokerage firms selected to participate. Known as the Importer Self-Assessment Pre-Certification (Broker ISA PC) test, the pilot program allows Customs brokers to leverage their relationships with importers to facilitate and encourage importers' participation in the Importer Self-Assessment program. CBP hopes to target small and medium-sized businesses with this test.
Robert DeCamp, Deringer's Director of Regulatory Affairs and Consulting and former two-term member of CBP's COAC, commented: "The ISA PC program presents opportunities for everyone. Industry will have an opportunity to be evaluated by qualified, third parties (non-government auditors), and brokerage firms who wish to practice in this area will--to a great degree--simply confirm the credibility of their qualified clients."
The Pilot
Selected brokers will work as ISA pre-certifiers. In this role, they will provide importers with information on the ISA program and will expedite the ISA application process for those who choose to use the service. Moreover, pre-certifiers will evaluate importers' Customs policies, procedures, and readiness to participate in ISA programs; the results of which will be submitted to CBP for evaluation. CBP recognizes the role brokers have played in endorsing CBP's commercial initiatives, automation efforts, and security programs. As trusted partners, CBP hopes that brokers will act as a "force-multiplier" to facilitate and expedite legitimate trade, thus increasing the pool of trusted traders with minimal use of CBP resources.
The eligibility requirements to participate in the pilot include operation as a licensed Customs broker for at least five years, C-TPAT certification for three years, ongoing maintenance of written internal control procedures ensuring CBP compliance, a strong history of CBP compliance, and training in internal control concepts based on the Committee of Sponsoring Organizations' (COSO) Internal Control—Integrated Framework course. Qualified broker candidates were also required to attend an ISA Pre-Certifier Orientation. There are 20 certified individuals nationwide, of which Deringer has three.
About ISA
ISA is a partnership between CBP and importers to endorse a high level of trade compliance. This internal program is designed to look for risk and devise appropriate procedures to manage it. Although participation is voluntary, importers realize benefits in exchange for assuming the responsibilities of the program. Pre-requisites for ISA include C-TPAT certification and at least a two year history as a US or Canadian resident importer. Importers that participate in ISA enjoy exemption from comprehensive CBP audits, fewer intensive exams, are provided free Importer Trade Activity (ITRAC) data, have an assigned National Account Manager, expedited cargo release, and benefit from expedited internal advice and rulings.
About Deringer
A.N. Deringer, Inc. is a leading provider of international supply chain solution services including international freight forwarding, warehousing and distribution, customs brokerage, logistics consulting, cargo insurance, duty drawback, and meat inspection. Deringer combines over 30 U.S. offices with a global agency network to facilitate the movement of cargo throughout the world.
Deringer delivers ongoing value by taking the time to understand clients' evolving business needs and forging long term partnerships. Our caring people work with customers to develop tailored solutions that improve efficiencies, reduce overall supply chain costs, and manages risk associated with global trade.