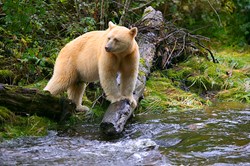 Our opposition is not knee-jerk Environmentalist versus Big Oil. We use energy, too. But the idea of allowing crude oil tankers in the pristine waters off the coast of the Great Bear Rainforest where the Spirit Bear lives is appalling
(PRWEB) August 21, 2013
International Wildlife Adventures, offering worldwide nature and photo tours since 1994, reaffirmed its opposition to the proposed pipeline from Alberta to British Columbia, Canada. Known as the Enbridge Northern Gateway Pipeline, the pipeline would transport crude oil from east to west, where it would be loaded onto tankers for shipment to international markets (e.g. China). Under official review since 2008, the NGP was launched with great fanfare and promises of environmental responsibility and economic benefit. Over the years, opposition has organized and grown. According to Pacific Wild, a wildlife protection organization that focuses on the Great Bear Rainforest, "160 First Nations, 31 municipal governments, 2 regional districts, the Union of B.C. Municipalities, 6 unions and over 250,000 individual public actions have openly expressed opposition to the Enbridge Northern Gateway Pipeline Project." In May, the government of British Columbia added its official opposition. However, the Province's objection was characterized as "weak" by Pacific Wild, and the project is far from dead.
The temperate rainforest that runs along British Columbia's coast, known as the Great Bear Rainforest, is a rich and bio-diverse region full of eagles, seals, whales, wolves, grizzly bears and black bears. It is the only place on the planet where the so-called Spirit Bear, is found. The Spirit Bear, also known as the Kermode, is a black bear with a genetic mutation that makes its fur a translucent white. Considered sacred by the First Nations people of the region, travelers on a quest to see the elusive bear frequently describe the experience as life-altering.
"Our opposition to the pipeline project is not knee-jerk Environmentalist versus Big Oil. We use energy, too. But the idea of allowing crude oil tankers in the pristine waters off the coast of the Great Bear Rainforest where the Spirit Bear lives is appalling, " says International Wildlife Adventures Director Susie Green.