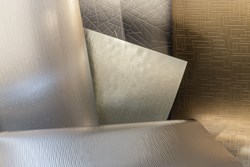 This breakthrough collection was designed to answer the call of designers and architects for new ideas and materials.
Schaumburg, IL (PRWEB) August 16, 2013
We are pleased to announce that our newest architectural surface, Metal-Art™, will now be displayed in 10 Material ConneXion libraries of innovative materials, including New York, Bangkok, Beijing, Cologne, Daegu, Istanbul, Milan, Seoul, and Shanghai, and Sweden.
Acting as a catalyst for new material and product ideas, Material ConneXion is dedicated to identifying industry trends, and providing a comprehensive overview of today's innovative and sustainable material solutions.
After bring assessed by a panel of creative professionals with materials experience, Metal-Art™ was selected join the ranks of 7,000 cutting-edge materials in the only Cradle-to-Cradle materials library in the world.
"Designers and architects are the visionaries defining the future of our spaces and environments," says Hans Mutzke, Lamin-Art's design director. "This breakthrough collection was designed to answer the call from those visionaries for new ideas and materials."
The collection includes five large-scale, distinctive designs that are captivating from a distance and texturally stimulating up close:

Waves: A flowing surface reminiscent of the timeless fluidity of rippling water or the sensuality of undulating sand dunes.
Axis®: Inspired by avant-garde angularity, proactive lines intersect and converge at all angles.
Striations®: A sophisticated rectangular motif with an emphasis on the vertical and horizontal three-dimensionality of the surface.
Interlink: A contemporary translation of the classical ornamental frieze motif into a bold and inspiring large-scale design.
Geometrix®: A versatile design of harmony, balance and playful visual symmetry that aligns basic rectangles into random, proportional linearity.
Each design is available in four traditional metallic colorations: brushed aluminum, brushed stainless, brushed champagne and brushed bronze. Designers Hans Mutzke and Virginie Boucher had the foresight to make the designs seamlessly match when Metal-Art™ sheets are applied side-by-side and end-to-end.
Metal-Art™ designs come in 4'x10' sheets, and are ideal for office, hospitality, retail, healthcare/assisted living and educational installations. Create a unique and captivating environment with the Metal-Art™ Collection.
About Material ConneXion:
Material ConneXion is made up of an international team of multidisciplinary experts that bridge the gap between science and design to create practical manufacturing solutions. The team included Ph.D. material scientists and material specialists with cross-industry work experience at Fortune 500s and national laboratories. Widely regarded as an authority on materials, Material ConneXion has contributed to publications and spoken about materials innovation, the strategic value of materials, and sustainable material solutions, among other things.
About Lamin-Art:
Lamin-Art is the North American design leader in architectural surfaces, including decorative laminates, pre-finished, real wood veneers, and embossed, metallic surfaces. With a philosophy of anticipating trends to develop and market innovative servicing materials, Lamin-Art partners with interior designers, architects and fabricators to facilitate their visions by providing innovative products that add value and elegance to interior spaces. Visit our website for more information.