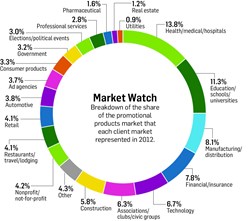 "The impressive ROI and high rate of advertiser recall for ad specialties are better than nearly any other medium, which is why even the biggest companies continue to invest in promo products," said ASI CEO Timothy M. Andrews
Trevose, PA (PRWEB) August 15, 2013
The annual "State of the Industry" report published by the Advertising Specialty Institute® (ASI) predicts record-breaking 2013 distributor sales for the $19.4 billion advertising specialty industry along with continued recovery from the U.S. recession.
Each year, ASI's Counselor magazine surveys distributors and suppliers for its "State of the Industry" issue. The survey of 2012 sales shows distributors are increasing sales, profits, order sizes, number of orders, marketing efforts and customer retention rates. Read Counselor's "State of the Industry" report on ASI Central.
According to ASI, the health/medical/hospital market remained the single biggest at 13.8 percent of industry sales, an increase of 2.0 percentage points over 2011. The education/schools/universities market ranked second, again accounting for over 11 percent of total ad specialty revenues. Manufacturing (8.1 percent) and construction (5.8 percent) both rose, which likely reflects growing economic activity.
"As ASI's research proves, the impressive ROI and high rate of advertiser recall for ad specialties are better than nearly any other medium, which is why even the biggest companies continue to invest in promotional products," said ASI CEO Timothy M. Andrews. "And, there are numerous opportunities for growth in our industry, which is growing at an even stronger pace than the U.S. economy."
Highlights from 2013's "State of the Industry" report:

Top 3 Products: Shirts, bags and writing instruments, per percentage of total 2012 industry revenue. T-shirts alone represent $2.7 billion of total revenue.
Bags Down: For the third year, bags declined in their share of sales, down to 8.7 percent of the market.
Vote for Profits: 2012's elections helped increase sales of buttons, badges and bumper stickers by 48 percent over 2011.
Green is (Not So) Good: While 72.6 percent of all distributors indicated sales of Eco-friendly items were the same as in 2011, 7.2 percent more reported a decline than an increase.
Electronics Up: As a group, USB drives and other electronic/tech products now represent about 10 percent of the overall market.
Toys and Games Drop: Questions over safety issues helped drive sales of toys and games down 65 percent since 2009.
Promotional products or advertising specialties are often imprinted with slogans or logos to market a company, organization, product, service, achievement or event. Companies often purchase them as gifts to employees or clients at holidays and for occasions year-round. The items are used in marketing campaigns to dramatically increase response rates.
While numerous industry leaders predict steady growth through 2014, political upheaval, unexpected economic challenges and implementation of the new federal health care law could impact sales.
For the report, ASI sent surveys to 14,000 ASI distributor members, all of whom are their company's primary contact. The surveys yielded a response rate of 5.9 percent.
About ASI
The Advertising Specialty Institute (ASI) is the largest media, marketing and education organization serving the $19.4 billion promotional products industry, with a network of over 25,000 distributors and suppliers throughout North America.