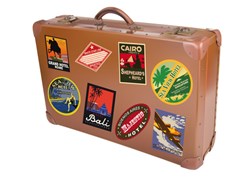 Toronto, Ontario (PRWEB) August 16, 2013
Canada is one of the biggest countries in the world and with this distinction – there are numerous myths surrounding Canadians says KANETIX. If a traveller is thinking about visiting Canada in the near future – a few myths will have to be debunked.
When people think about Canadians, their first image is typically of the Canadian Mountie, which is the common term for a member of the Royal Canadian Mounted Police. While the Mounties are Canada's federal police force, the iconic red jacket, boots and tall brown hat are a type of dress uniform. Just like how the United Kingdom's police force doesn't wear tall black hats, most Mounties wear a very recognizable civic uniform for day to day duties.
In the United States, there is a general idea that Canada is a country that does not have guns. The truth of the matter is that while Canada does not have many guns compared to the United States, it does have more guns than most countries in the world. Where the United States boasts more than 90 guns per 100 citizens, Canada is in the top 15 with roughly 30 guns per 100 citizens. Canada has a great deal of rural country, where hunting is a common practice and thus where guns see a fair amount of use.
While Canada does have two official languages, English and French, French is not spoken nearly as widely as English. The majority of French speakers reside in the province of Quebec, a place which was originally settled by the French during the colonization of the country. Even in Quebec, there are a high number of people who only speak English, and plenty of people who can speak both languages with some degree of fluency. Also, it is essential to remember that Canada also has a fairly sizable minority of people who speak German, Spanish, Cree, Inuktitut and Ojibwe.
When referring to Canada, many people refer to it as the frozen north, but the truth of the matter is that Canada is enormous, and it has a wide variety of climates. While northern Canada does have routinely sub-zero temperatures, the southern reaches enjoy a four-season climate with lengthy springs and summers. As a matter of fact, with the coastal cities to the east and the west, the winds over the ocean conspire to make the climates beautifully temperate and liveable.
While Canada does have some excellent food producing land and some of the most beautiful forests in the world, the truth is that this is not all of Canada. Particularly on the coasts, Canada offers a wide variety of cities and urban areas. Some of Canada's largest cities include Toronto, Calgary, Montreal, Ottawa, Vancouver and Edmonton. Canada's large cities are thriving centers of culture and commerce, and they offer an impressively varied counterpoint to Canada's beautiful natural interior. Canada has some beautiful natural resources, but it also has very wonderful city centres as well.
Toronto is the biggest city in Canada by population, with more than 2 million people calling it home. Toronto is often named as the country's cultural capital, and in many cases, it is Canada's most famous city. However, the truth of the matter is that while Toronto is big, bustling and beautiful, it is not the capital of the country. The actual capital of the country is Ottawa, the fourth largest city. Located in Southern Ontario, Ottawa was named the capital of Canada in 1857 by Queen Victoria.
While Canada was originally colonized by the British and the French, today it is an independent country with a parliament that acts as the primary legislative body. However, adding to some of the confusion, the Crown is recognized as a legal and practical entity, though not as a political one. To this extent, Canada is also called a constitutional monarchy. However, to all rights and purposes, Canada is a self-governing nation whose full independence was won over an extended period of time. The gradual nature of Canadian independence is such that it is difficult to pick a specific date and point to that as the split. Essentially, the process of independence had a great deal to do with the gradual dismantling of British control in judicial, executive and legislative matters.
While hockey is Canada's most popular winter sport, it actually shares the status of being the national support with lacrosse. Lacrosse is Canada's national summer sport, while hockey reigns supreme in the winter. While hockey is Canada's most successful sport in the international arena, there are many sports that are commonly played. Canadian football is the second most popular spectator sport, and the Canadian football event, the Grey Cup, is Canada's most widely attended, widely watched sporting event. Just as everywhere else, there are simply people who do not care for sports!
While universal health care is a source of pride for many Canadians, the system is far from perfect. While nine out of 10 Canadians prefer the Canadian system to the privatized health care offered in the United States, plenty still say that there is room for improvement. In 2010, more than 50 per cent of Canadians stated in a survey that vast changes are required to make the system more usable, while 10 per cent want it rebuilt entirely.
KANETIX offers a free health insurance quote comparison service for individual medical health insurance coverage. Buy your health insurance plan online from the most affordable provider that best suits your needs.
For those planning to visit Canada as a tourist, immigrate to Canada, or have family or friends coming for a trip, travel medical insurance is a must. Use the KANETIX.ca quote comparison service to get instant visitors to Canada travel insurance quotes from top travel insurance companies.
KANETIX also offers a quote comparison service for parents and grandparents of Canadian citizens or permanent residents living in Canada. Use the KANETIX Ltd. free service to compare quotes and buy a Super Visa insurance policy online.
As a matter of fact, Canadians do not live exclusively in igloos, in tents or in farmhouses. The vast majority of Canada's population is urban, centred on cities like Toronto and Vancouver. While there are definitely people in the interior who live more rural lives, the truth is that Canada is one of the world's leading industrialized nations.
Canada is a rich and varied place with a lot to offer, so travellers should go and visit with an open mind instead of focusing on popular myths.
-30-
About KANETIX®
Launched in October 1999, KANETIX was Canada's first online insurance marketplace and today provides over a million quotes per year to consumers looking for insurance, as well as comparisons for mortgage rates and credit cards.
The KANETIX comparison service is a one-stop shopping environment for consumers. Each day, thousands visit the KANETIX website at http://www.kanetix.ca to comparison shop their various financial needs. Shoppers choose what they want to compare, obtain a quotation and complete an online application or, with the help of KANETIX connect with the provider to purchase or apply for the product over the phone.
Through its Software as a Service team, KANETIX is also the leading provider of online insurance quotation technology, developing online quotation systems, mobile solutions, actuarial tools and websites for many of Canada's largest insurance brands.
For more information, visit KANETIX.ca or contact:
Natasha Carr
416.599.9779 ext. 343
publicrelations(at)KANETIX(dot)ca
KANETIX Ltd.