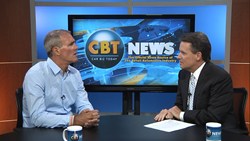 Atlanta, GA (PRWEB) August 15, 2013
Dale Pollak, founder of vAuto, and one of the leading authorities on automotive dealership management strategies, was recently featured in an interview on CBT News.
CBT News founder and CEO Jim Fitzpatrick met with Pollak to discuss his views on wide-ranging topics affecting used car dealerships, including data relevance, hiring managers, and operations. To see the full archived interview, log on to http://www.cbtnews.com.
CBT News is the official news source of the retail automotive industry. The website features up-to-date industry news, including videos and articles on sales tips, social media marketing inventory management, fixed ops and more. The centerpiece of the site is the daily newscast, delivered by anchors Bridget Everett and Russell Brown. The free site is rapidly growing, with over 25,000 subscribers.