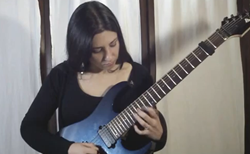 In the video, Alejandra Mesliuk teaches how to play the iconic opening to, and recurring musical theme of, "Universal Mind."
New York, NY (PRWEB) August 16, 2013
Guitar Control, the leader in web-streamed instruction and comprehensive DVD-based courses, announces the release of "Lead Guitar Lesson - How to Play "Universal Mind" (intro) by Liquid Tension Experiment," the latest in their series of free instructional videos that are available on YouTube.
"Universal Mind" is from the acclaimed album Liquid Tension Experiment, the first recording by the Progressive Rock / Metal band of the same name. Formed in New York in 1997, the band Liquid Tension Experiment (LTE) began as a side project of Dream Theater members Mike Portnoy and John Petrucci, who saw it as a way to explore musical avenues different from those traveled by Dream Theater. LTE has continued recording and performing, sometimes as Liquid Trio Experiment, adding and subtracting members (Jordan Rudess and Tony Levin) depending on their availability, with their most recent album produced in 2009. "Universal Mind" showcases Petrucci's incredible playing and is a perfect example of the instrumental rock that is the band's signature style.
In the video, Alejandra Mesliuk teaches how to play the iconic opening to, and recurring musical theme of, "Universal Mind." This is a note-for-note lesson that focuses on the intricate fretting demanded by the music. First Alejandra plays the theme at full speed, demonstrating incredible skill and dexterity on the fretboard, virtuosity that is easily the equal of Petrucci's playing. Then she slows things down so the student can follow along and really see the progression of notes. This is an intricate lead line, so the available tablature notation is indispensable. Although the focus is on lead playing and instrumental rock, the lesson will be useful to virtually all guitarists, as this musical passage makes a terrific practice exercise.
Alejandra Mesliuk is a highly accomplished and classically trained guitarist from Argentina who is equally comfortable playing Jazz, Rock, and Classical pieces. Her practical, unburdened-by-theory approach in this video leads students directly to the music, making this intro to "Universal Mind" accessible not only to those with musical training but to beginners and "ear" players as well.
Guitar Control is a consortium of professional guitarists dedicated to providing the highest quality musical instruction. Producing both web-streamed lessons and comprehensive multi-DVD courses, Guitar Control offers instruction for every style of playing and for all musical genres. Guitar Control's YouTube channel offers 358 (and counting) free video lessons.