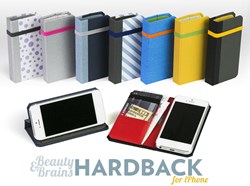 We'd be overrun with orders if we didn't release it early
Saint Louis, MO (PRWEB) August 27, 2013
It wasn't much of a secret. Alongside rumors of an upcoming iPhone update, word of a new Portenzo iPhone case in development began back in June. For fans who'd been hoping for a HardBack version of Portenzo's popular iPhone case, relief arrived today when Portenzo announced the all new HardBack Wallet for iPhone. Already popular in Portenzo's iPad and iPad Mini cover line, the HardBack is a hard cover, book bound case that, after many requests, has been made available for iPhone. Originally not planned for release until after the iPhone 5S rumored announcement, Portenzo decided to move up production when it became clear demand was reaching a fever pitch.
Portenzo's owner/artist, Darin Murray, gave the go ahead. "We just couldn't wait any longer," said Murray. "We're already getting so many clients asking for the HardBack for iPhone. And that's before they knew about the breakthrough features never before seen in a HardBack case. We'd be overrun with orders if we didn't release it early."
Murray cites the new built-in wallet and an inconspicuous stand for easy viewing of the iPhone screen for the anticipated demand. "The Intellistand is so unique for this type of iPhone book case. We even surprised ourselves in how useful it is," said Murray. "Now add a wallet to that. It's the best iPhone case anyone is going to find in it's class. We think it's going to be as popular as the new iPhone itself."
The HardBack Wallet for iPhone is available at shop.Portenzo.com
Portenzo, the original made-to-order case company and makers of hand-crafted iPhone, iPad, iPad Mini, Nexus 7, Nexus 10 and Kindle cases have been innovating the premium case industry since 2010. Founded by artist Darin Murray, every unique case that leaves Portenzo studios has been meticulously cared for by Portenzo craftsmen from the first cut to the last stitch. Portenzo Cases are proudly made in Saint Louis, Missouri, USA.