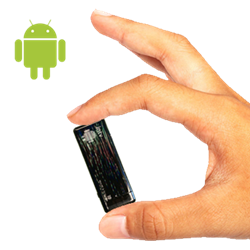 Customer feedback and a close relationship with our hardware vendors has proven invaluable in creating what we believe to be the very best Android digital signage solution on the market
Fargo, ND (PRWEB) August 17, 2013
Now available from RevelDigital is a new generation of Android player hardware designed specifically for use in digital signage applications. This new hardware platform coupled with the full featured RevelDigital player app is able to provide exceptional performance and reliability.
Performance has been dramatically increased over the previous release with a quad core processor, updated Android OS, more memory, and new WiFi hardware. "One of the biggest concerns with our first Android hardware release was with WiFi performance. Most Android PC sticks have an internal antenna which greatly reduces range. Our new hardware utilizes not only an external antenna, but a hand selected WiFi chip to guarantee exceptional connectivity, range, and speed", said Mike Tinnes, CTO for RevelDigital. Remote placement of a corded antenna is also possible with an optional magnetic mount kit.
A customized Android Jellybean OS allows full use of the display area (no visible toolbars) and automatic switching between portrait and landscape orientations. Updates to the player are fully automatic which makes this hardware truly maintenance free. Some of the hardware features in this release include a quad core processor, 2GB DDR memory, 8GB flash storage, Bluetooth, and WiFi connectivity. Also included are USB and HDMI cables.
RevelDigital's Android player app, available on the Google Play Store, provides full integration with the RevelDigital web based management platform including tools for designing content, scheduling playback, monitoring, and reporting. RevelDigital's template designer allows for pixel precise layouts. Player health is monitored continuously with screen shots of active content and proof of play reporting gives millisecond precision of when content is played. For more information on the RevelDigital management platform visit http://www.reveldigital.com.
"Customer feedback and a close relationship with our hardware vendors has proven invaluable in creating what we believe to be the very best Android digital signage solution on the market", said Ted Rosenbaum, CEO of RevelDigital.
Pricing will remain the same as the previous generation hardware at $145. Included are USB and HDMI cables as well as a 2 year replacement warranty. Visit the RevelDigital hardware page for more information: http://www.reveldigital.com/hardware.
About RevelDigital
Since 2006 RevelDigital has been focused on creating the most comprehensive and user friendly cloud based platform for digital signage. By utilizing flexible core technologies, RevelDigital has been able to remain nimble enough to adapt quickly to the fast changing requirements of digital signage. RevelDigital is based in Fargo, ND. For more information about RevelDigital, visit http://www.reveldigital.com.