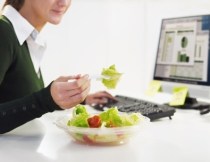 You can do all these if you make yourself a promise – and it's a promise worth keeping.
Canoga Park, CA (PRWEB) August 15, 2013
The weight loss experts at 101 Medical Weight Loss realize that with fall weather, the combination of shorter days, increased stress, and sitting at a desk all day can spell trouble for those struggling to keep weight in check. 101 Medical Weight Loss offers tips to everyone to stay healthy and fit during the fall and winter months, even at work.
1. Start your day with a healthy breakfast.
If you don't have time to eat an omelet or oatmeal bring a piece of fruit, a high-fiber low-fat muffin, or instant oatmeal with you to work. Remember, a donut is not a good breakfast – avoid getting on that carbohydrate roller coaster first thing in the morning by eating a high-protein, high-fiber breakfast.
2. Pack a healthy lunch.
If mornings are hectic, then pack your lunch the night before. Include healthy munchies (raw vegetables, almonds, string cheese, low-fat popcorn, fruit or yogurt) that you can snack on later in the day, when food cravings are most likely to hit. This way, you can avoid the temptation to satisfy your hunger at the office vending .
3. Take 90-seconds to stretch it out!
One of the biggest mistakes we make is sitting slumped over our desks and transfixed by our computers for hours on end. But, you can change all that by simply remembering to do 90 seconds of stretching every half hour or so. Stretching not only increases your metabolism, it also alleviates stress.
4. Alternate with 90-second strengthening.
In addition to stretching, it's important to do some strength training. Try doing some quick exercises in your chair like lifting yourself gradually off your seat for a few seconds.
5. Don't just sit there!
Get in the groove, get on the move. What does that mean? Don't be a dead weight. It means getting up out of your seat, taking the stairs, and going for walks every chance you get.
6. Stay hydrated.
We've said it before, but we'll say it again. Keep water handy or take frequent walks to the water cooler. What we often mistake for hunger is simply dehydration. So, keep well hydrated.
7. Stay committed.
It's easy to remember to do these things for a few days, but that won't get you where you want to be. To lose weight, maintain weight loss, and get fit, you must vow to do this every day. You can do it if you make yourself a promise – and it's a promise worth keeping.
8. Dealing with the boss.
Exercise, stretching and walking are all beneficial stress-reducers that help you lower your risk of stress-induced munching. Also, when you lower stress, you start thinking clearer and increase productivity. So, if your boss has anything to say to you about your taking a few minutes out of every day to stretch, exercise and walk, then tell him or her it helps clear your head and energizes you, so that you're actually much more productive.
9. Dealing with co-workers
Don't be embarrassed. You're doing what you need to do to stay fit and healthy. Educate your co-workers and, before long, they'll be joining you for those lunchtime walks and you'll even catch them stretching and bringing in healthy snacks. They'll admire you for it.
Following these simple tips can help fend off those extra pounds that tend to sneak on during the shortened fall months.
For more information please visit http://www.101medicalweightloss.com/
About 101 Medical Weight Loss:
For more than a decade, The Center for Medical Weight Loss has been helping people to shed unwanted pounds through physician-guided programs. The company is known throughout the San Fernando Valley area for uniquely meeting the needs of patients through personalized plans. 101 Medical Weight Loss operates on the belief that safe weight loss results from healthy food and lifestyle choices, but provides the option of a safe appetite suppressant prescription when necessary. To discover what The Center for Medical Weight Loss can do for you, visit 101 Medical Weight Loss.com