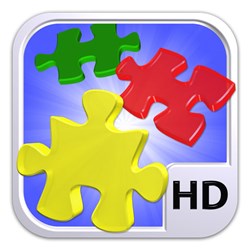 Thanks to social sharing, jigsaw puzzles will continue to be something special.
Herriman, Utah (PRWEB) August 21, 2013
Intuitive Innovations, a premier software development company specializing in the iOS platform, officialy launched their latest game, Jigsaw Puzzles Deluxe HD, in the iTunes store today. Jigsaw is a simple, yet sophisticated puzzle game designed with you in mind. Designed for both jigsaw-juniors and master puzzlers, Jigsaw Puzzles Deluxe features versatile skill sets so everyone in the family can play.
To play, users simply choose a photo, then select how many puzzle pieces to play with. The game begins as the puzzle pieces are piled on the right side of the screen, with a timer counting the seconds away-or choose to disable the timer. As the pieces are dragged to the middle of the screen, when users align two correct shapes, they automatically lock into place.
"We looked closely at what makes the love of jigsaw puzzles so universal, and focused on this until we had something really special; something that would remind you of why you love these puzzles, and would introduce the next generation to them," said David Musser, CEO of Intuitive Innovations Software.
With Game Center Leader-board integration, players can keep an eye on your friend's puzzle times and even challenge them to beat your score, making Jigsaw puzzles an adrenaline-filled race to beat your friends' best time. Jigsaw also features true multi-touch capabilities, which is perfect for puzzling with children, family, or friends. With Jigsaw HD's brand new social integration feature, users can now share their best time, or custom puzzles with the world.
"Jigsaw puzzles have always been a social experience. Most of us can remember back to when we were kids and doing puzzles, struggling to find that 'impossible' piece to bring the picture together. Thanks to social sharing, jigsaw puzzles will continue to be something special we share with others," said Musser.
Users can enjoy the built-in background music, or choose from their own library. From top to bottom this app is smooth, sophisticated, fully customizable game, with fun and competitive undertones.
About:
Intuitive Innovations was started in 2009 when four friends decided to take their passion for using really great apps and set out to start creating their own. Based in the foothills of the Oquirrh Mountains, just southwest of Salt Lake City, Utah, Intuitive Innovations is committed to creating immersive app experiences that maintain family-friendly values.
In addition to Jigsaw Puzzles Deluxe HD, Intuitive Innovations also has several other teams working on a fall lineup of apps.